Tyler Perry On Why He Paid Cicely Tyson $1 Million For A Day Of Work
The mogul collaborated with the actress several times in her later years.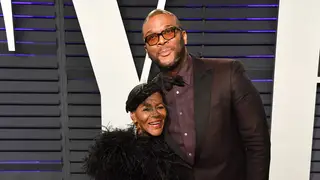 Tyler Perry recently reflected on the late, great Cicely Tyson and why he paid her $1 million for a day of work.
In an interview with AARP, the 52-year-old mogul said, "I've never said this publicly, but I took care of Ms. Tyson for the last 15 years of her life. She was a proud woman, and the only reason I mention this is because she wrote it in her book. This woman had done so many amazing things, but she wasn't well compensated for it. She made $6,000 for Sounder, you know? I wanted to make sure she knew that there were people who valued her."
He continued, "So, she did one day of work on my 2007 film Why Did I Get Married? I paid her a million dollars. I loved working with her. And it makes me feel great that I was in a position to give this incredible woman some security in her later years."
Perry cast Tyson in several of his movies including Diary of a Mad Black Woman, and  Madea's Family Reunion. Those were in addition to her pivotal roles in other projects, such asThe River Niger (1976), Roots (1977) and her Oscar-nominated performance in Sounder (1972).
Cicely Tyson passed away at the age of 96 in January of 2021.