Soulja Boy Puts Hip-Hop Community On Blast For Lack Of Support For Megan Thee Stallion
Tory Lanez was found guilty last month on three charges related to her shooting in July 2020.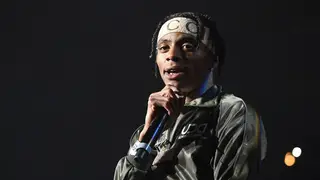 Soulja Boy is letting everyone know his opinion on how those in the Hip Hop world aren't defending Megan Thee Stallion even after Tory Lanez was found guilty of shooting her in July 2020.
Taking to his Instagram Live, the Chicago-born rapper relayed his anger over the situation and had some words for those who tried to victim-shame the Houston Rapper after being shot by Lanez.
"Yall n****s out here shooting b*****s and ain't nobody gone say nothing? I'm the only n***a in the whole rap game that's gonna say something? Ok, cool," Soulja Boy said, before labeling Lanez as a "b***h."
"Well, Tory Lanez you a b***h. "You a b***h n***a on me," he added. "Yall watched this n**** shoot this b***h and everybody said, 'He aint do it.' Man, f**k yall lame ass n****s."
In another video, Soulja took aim at Lanez's musical career, which he called "trash."
"You want to shoot b*****s in the feet n****? Yous a pussy n****," Soulja Boy said. "And when you get from jail n**** you know where I'm at. You got a problem n**** I'll beat your b***h ass n****. Don't never rap over none of my beats, don't never freestyle over none of my beats. You trash n****. Your music trash. Your career trash. Your whole life trash."
On December 23, Tory Lanez was found guilty of all three charges he faced during his trial, including felony assault with a semiautomatic firearm, possession of a concealed, unregistered firearm, and discharging a firearm with gross negligence, over the July 2020 shooting that took place after a Hollywood Hills party.
Since his conviction, supporters of Lanez have created several petitions to appeal his conviction in connection with the shooting.
Watch Soulja Boy's comments about Tory Lanez below.