AMAZING VIDEO! Former Football Player Catches Little Boy Escaping Apartment Fire
"I can definitely credit to the Marine Corps for instilling this good training in me to save a life."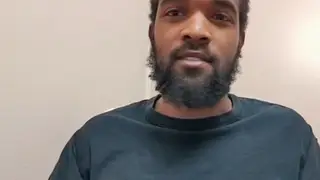 Phillip Blanks, a former high school and college football player, made the catch of a lifetime on Friday (July 3) when a 3-year-old boy dropped from his third floor apartment balcony that was on fire in Phoenix, Arizona. 
Blanks, who is also a retired U.S. Marine, said that he saw another guy attempting to catch the little boy, Jameson, and was unsure if he could successfully keep him in his arms, according to WWMT- Channel 3.
"I stepped in front of him. The way I caught him damaged his foot, but the most important thing is his head was safe," the 28-year-old told reporters. 
Prior to the incident, Blanks said that he was up early to go workout with a friend when he heard screaming and noticed that the nearby apartment was on fire.
"I can definitely credit to the Marine Corps for instilling this good training in me to save a life," he said. "I don't see myself as a hero. A person trained to do my job is trained to protect people."
Jameson's eight-year-old sister, Roxanne, was seriously injured in the fire but the mother of the siblings, Rachel Long, 30, did not survive. Her husband Corey Long was reportedly not home at the time of the incident.
While the fire is still under investigation, a GoFundMe page has been set up for the Long family.