New York City Council Member Chi Ossé Defends 2023 MET Gala Attendance
The 25-year-old councilman is the son of the late entertainment attorney Reggie Ossé founder of The Combat Jack Podcast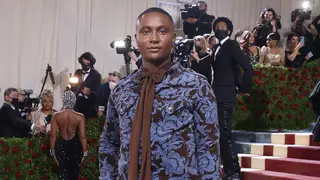 The MET Gala is known as an annual night of extravagance as celebrities try to outshine each other in glittering ensembles while dripping with diamonds. The event does not seem like a place where public servants are meant to be. However, the gala has been attended in the past by Rep. Alexandria Ocasio-Cortez, and Senator Hillary Clinton.
The attendance this year (and last year) by New York City Council Member Chi Ossé has rubbed some critics the wrong way with The New York Post calling it "hypocrisy."
However, even before critics came out to speak against his attendance, Ossé explained that his attendance and role at the event was the perfect mix of politics and fashion.
"I think the Met Gala sometimes receives a controversial reputation, and people love to write think pieces about it, but as chair of the Committee on Cultural Affairs, my job is to champion our cultural institutions that act as economic powerhouses for our city," Ossé told Vogue. 
"That's where my mindset was this year, and I think that difference in how I approached the evening really helped me to enjoy myself in a way that I might have struggled with the year prior."
The 25-year-old politician admitted that he previously felt like a "fish out of water" last year, but was a bit more comfortable this year.
He also worked with a Black-owned New York-based fashion designer to create his look.
"I was able to work with the designer Keith Herron, a young, Black creative who designs and runs the brand Advisry," Ossé says, "and the garment that he put together—which referenced Karl's 1983 Chanel collection, as well his own take on fashion—was just the most comfortable garment to wear. I felt amazing in it and received a lot of compliments."
"Keith and I were looking through Karl's looks from his entire career, and the first idea I had was wanting to do a take on the iconic tweed suit that he made for women." The black-and-white suit was a show stopper on the red carpet, where Ossé posed with "The People's Princess" Ice Spice.
"We took a video together," he recalled. "It was her first Met Gala, and we ended up chatting and then hanging out for the rest of the night; so, yeah, I got to hang out with the People's Princess!"
His father was legendary entertainment lawyer Reggie Ossé, who repped Jay-Z and other contemporary hip-hop giants.
Despite his parentage, Ossé has been focused on helping the disadvantaged in New York with a focus on addressing housing standards and holding the NYPD accountable for violence against citizens.