Hip Hop Awards 2022: N.O.R.E Surprises Fans, Performs 'Nothin''
The Queens rapper took the stage alongside Philly rapper Armani White as he performed his song 'Billie Eilish' sampled from the 2000s track.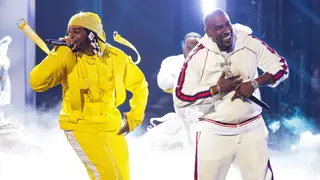 N.O.R.E brought the crowd to their feet during the BET Hip Hop Awards 2022 as he performed his song "Nothin" alongside rapper Armani White who sampled the track for his viral TikTok hit "Billie Eilish."
Before the Queens artist surprised fans, White took to the stage filled with hazy clouds to rap the lyrics of his single. Rocking an all-yellow fit from head to toe, White rapped his hard-hitting lyrics with the punchy choreography to match.
While he transitioned out of his hit debut song, N.O.R.E swiftly took over the stage and to took it back to the early 2000s to perform the classic song produced by The Neptunes.
Rapping the popular chorus, the crowd was in awe as they sang every word.
White's "Billie Eilish" hit has gone viral on TikTok and amassed over 80 billion views, in a previous interview, he shared that N.O.R.E. cosigned the sample of the song and also what the song meant to him growing up.
"That was my hit record as a kid because I could not escape that song, and I loved it so much," White said.