From Cardi B to Drake: 6 Best Celebrity Sneaker Collaborations
Does your favorite collab land on our list?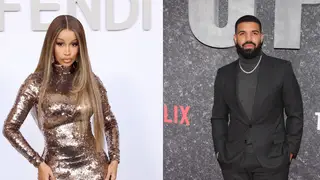 Being a sneakerhead is a personality trait that comes with being a hip-hop lover. For decades, people have waited outside brick-and-mortar stores for new releases. The sneaker game still stands strong today, with many of our favorite artists and celebrities collaborating with some of our favorite brands.  
Here are our favorite sneaker collaborations to celebrate his latest launch and excitement for the culture
Cardi B And Reebok

Cardi B made some serious money moves when she collaborated with Reebok! Her shoes truly represented her vibrant personality, coming in multiple colors such as green, purple, or blue sneakers. She even dropped all red slides at one point that just hit differently! The rapper did her thing with this one! 

Drake And Jordan

We can go on all day about how great each of Drake's releases was with Jordan, but our favorite was the Drake vs. Lil Wayne from 2014. It came out the same year he co-headlined a tour with Lil Wayne. The shoes were designed specifically for the rappers: one all-white sneaker and an all-black sneaker with matching multi-colored shoe laces.

Travis Scott And Nike

Travis Scott flipped the script for his Nike partnership by reversing the swoosh on most of the products. This created a whole new look to the brand's typical look. 

Kendrick Lamar And Nike Cortez

The Kendrick Lamar and Nike Cortez collab had us all saying," Damn!" when they first dropped. Lamar even put "damn" on the side of the Cortez Kenny 1's dedicated to his 2017 album. The sneakers kept the classic Nike Cortez design and added a variety of colors to choose from. Our favorite is the Cortez Kenny 2's, Kung Fu Kenny. 

Big Sean And Puma

Big Sean's collaboration with Puma in 2017 was too smooth for us to handle. The rapper came out with an all-suede design for his shoe. They came in three satisfying neutral colors: nude, ash, and off-white. Big Sean was playing no games with this collection!