George Floyd Justice in Policing Act: 5 Things the New Bill Would Do
The new legislation, inspired by activists demanding better law enforcement, has many components designed to address their issues.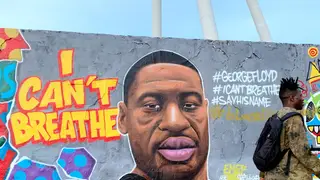 House Democrats passed a major effort to overhaul national policing standards, spurred by the deaths of unarmed African Americans at the hands of law enforcement, and which focuses on police accountability.
The George Floyd Justice In Policing Act was approved by the House 220-212 late Wednesday, named after the Minneapolis man who died when an officer knelt on his neck for nearly nine minutes, which triggered months of massive global protests with him as the face of the movement.
"My city is not an outlier, but rather an example of the inequalities our country has struggled with for centuries," Minnesota Rep. Ilhan Omar said on the House floor Wednesday, asking if her fellow legislators "have the moral courage to pursue justice and secure meaningful change?"
But there are specific things that the legislation, which now goes to the Senate for approval, is intended to do. Here are five of them:
RELATED: George Floyd's Sisters Say They Miss Him 'Every Day'
Chokehold Ban

Places a federal ban on police chokeholds and carotid holds and supports funding for state and local law enforcement agencies that do the same. Floyd and others like Eric Garner died because of constricting positions officers placed them in. The new legislation would do away with that action and encourage other methods of subduing a suspect.

Ends 'No Knock' Warrants

Creates a federal ban on 'no knock' warrants in drug cases, which were the central point of what happened in the Breonna Taylor case last March, when Louisville officers went into her apartment, resulting in them shooting her to death. The bill also supports funding for state and local police agencies that ban such warrants.

Deadly Force As Last Resort

The bill stipulates that police use deadly force as a last resort and mandates that police officers use de-escalation techniques before deciding  on using methods that could take a life. Rather than determining if such use is "reasonable," they would have to decide if it is "necessary."

Police Accountability

Offending officers would be more subject to criminal prosecution by amending the federal statute to prosecute misconduct. The mens rea (or criminal intent) standard in 18 U.S.C. Section 242 would change from "willfulness " to "recklessness." Also, law enforcement would be required to collect data on all investigations.

Eliminates 'Qualified Immunity'

Suppose officers are found to have violated an individual's constitutional rights. In that case, that person can recover damages in civil court because of 'qualified immunity' or protection for government officials performing certain duties from civil lawsuits. Without that protection, an individual would be able to file a legal claim against an officer directly.