New Music Monday: IDK, Lil Baby, Amaarae Start Your Week With A Fresh Batch Of New Tunes
Tune in every Monday to catch songs you need to add to your rotation.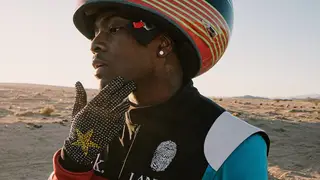 Keeping up with all the new music released each week is challenging. Something new comes out just as you start to fall in love with a particular song, album, or artist, as being a music fan today is enjoyable but also challenging.
However, you can relax knowing that BET has you covered with our weekly New Music Mondays piece, highlighting some of the most recent performers, sounds, and trends in hip-hop, r&b, afrobeat, house, and more. We offer a diverse selection of reputable artists and groups from across the country and world.
You'll discover a variety of well-known (and less prominent) musicians and up-and-coming artists. Here are eleven new records to start your week with, without further ado: lead by Lil Baby, IDK and Amaarae.
IDK (feat. Musiq Soulchild): "Superwoman"

Friday, PG County, Maryland rapper IDK released his new album F65 and the standout track "Superwoman," featuring Musiq Soulchild.

Amaarae: "Co-Star"

Late last week, Amaarae released her new single/video for "Co-Star" while announcing her new album Fountain Baby.

Lil Baby: "Go Hard"

Lil Baby released his new single/video on Friday with "Go Hard," which is already presenting some summer vibes.

Conway The Machine (feat. Fabolous & Benny The Butcher): "Brooklyn Chophouse"

On Friday, Conway released his newest album Won't He Do It and the standout salute to BK, "Brooklyn Chophouse," featuring Fabolous and Benny The Butcher.

Caiden The Crownholder: "F V C"

Caiden The Crownholder releases his latest song/visual "F V C."

Destroy Lonely (feat. Ken Carson): "money & sex"

Off of his highly-anticipated debut album If Looks Could Kill, Destroy Lonely drops the stand out track "money & sex," featuring Ken Carson.

DD Osama: "Who I Am"

On Friday, DD Osama released his latest single "Who Am I," which is off of his debut project Here 2 Stay, out 5/12. 

Rockness Monsta (feat. Ron Browz): "Got It Movin"

Rockness Monsta drops "Got It Movin," a Ron Browz-produced single from his sophomore album Ether Rocks.

BJ The Chicago Kid: "Forgot Your Name"

BJ The Chicago Kid returns from a long hiatus with a new song/video for "Forgot Your Name," while also revealing he's signed with Yeti Beats' Reach The World Records.

Eem Triplin: "Tell Me I'm Right"

Eem Triplin releases "Tell Me I'm Right," the first official single off his upcoming debut project, STILL EP.

Bonus Heat #UpAndComing: Check out Kenzo Balla's brand new song/video "Enough Is Enough" (feat. Rayy Balla & Cito Blick)

It's one of our new favorites!