Bronny James, Following Even Closer In His Dad's Footsteps, Strikes Endorsement Deal WIth Nike
Proud dad LeBron celebrated the news about his high school basketball phenon son on Instagram.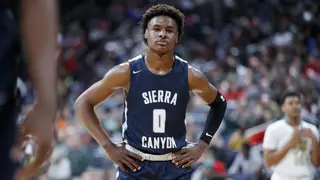 Nike Basketball has officially signed a name, image, and likeness (NIL) deal with LeBron James' son Bronny James.
The 18-year-old is currently a senior at Sierra Canyon School in Chatsworth, Calif. In August, his mother told Sports Illustrated he will more than likely play college basketball instead of going directly to the NBA.
LeBron, the proud papa, who also happens to be power forward for the Los Angeles Lakers, celebrated the news, writing on Instagram: "The Legacy Continues On!! Congrats Young King!!"
Bronny spoke about inking the new NIL agreement and how much it means to carry the brand on through another James generation.
"For as long as I can remember, Nike's been a part of my family," he said in a press statement. "Getting a chance to team up with them and continue my family's legacy both on the court and in the community is wild — it really means a lot to me."
Through his partnership, Bronny wants to continue supporting the LeBron James Family Foundation.
He joins four other student players to sign NIL deals with the sportswear company. The others named include the Iowa Hawkeys' Caitlin Clark; the Stanford Cardinals' Haley Jones; Camden (N.J.) High School's D.J. Wagner; and fellow Sierra Canyon star player JuJu Watkins.

"To serve the future of athletes and sport, Nike is teaming up with inspiring young athletes who are leading the way now — both on the court and in their communities," Nike said in a statement. "Just as we support them in pursuing their goals, they push us to think even bigger about the change we can create together."