Lil Durk Accuses Gunna Of Snitching In Young Slime Life RICO Trial
The Chicago rapper sat down with the 'Off the Record' podcast about the situation.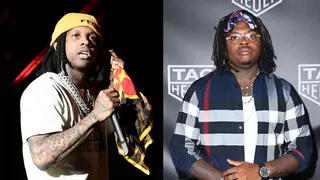 Lil Durk is addressing allegations that Gunna snitched in the still ongoing YSL RICO trial in-order to be set free from prison.
Sitting down with the Off the Record podcast recently, the Chicago rapper spoke about his hate for people who work with law enforcement agencies.
"If you ever told, if you ever tell, I hate you," Durk said. "Like, with a passion."
When asked if he believed Gunna is categorized as such, Durk replied: "I don't sit up here and play games, man. That man told. You should have went in there and kept your mouth closed."
He continued: "I never unfollowed him [on Instagram]. I don't know why I didn't. I just don't take Instagram and all that type s**t serious. But if you a rat, you a rat. If you rewind the clip a little bit, I looked into the camera and I told you, if you a rat, I f*****g hate you. Because I love Thug."
Last December, Gunna reportedly took a plea deal in the YSL RICO case. At the time in a statement, the Atlanta rapper claimed he did not cooperate with authorities and didn't agree to testify to be a witness "for or against any party in the case."
Video subsequently surfaced on social media of Gunna admitting that YSL is a violent gang during a court hearing for his plea deal, however his attorney, Steve Sadow, has denied that this constitutes as snitching on anyone.