Report: Dr. Dre's Detox Is Complete With a New Name
Beats boss scraps already famed title for another one, says Aftermath producer Dawaun Parker.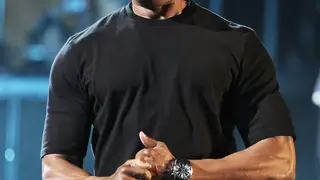 After more than a decade of anticipation, teasing leaked singles and more rumors surrounding Dr. Dre's third album, news of the Doc's mysterious masterpiece resurfaces again.

According to Aftermath producer Dawaun Parker, who has creds on Eminem's Relapse and 50 Cent's Curtis, Dr. Dre has long parted ways with the album title Detox. In fact, the Doc has a new name in mind for the long-awaited LP.
"The album he's working on is not called 'Detox.' He scrapped 'Detox' a couple years ago, and came up with another," Parker told Shots Fired podcast. "I won't say what the title is because I haven't seen it online or anything yet."  
It looks like the Doc is continuing to keep the details surrounding his new album under wraps. Back in 2010 an incomplete version of "Under Pressure," featuring Jay Z, leaked online, much to Dre's disliking. He promised fans they would hear it when it was ready along with the rest of the album.
The album, Parker said, is actually complete. Well, sort of. "I feel like one day, he's gonna wake up and say, 'Today's the day and I'll put it out.' Because the music's been there."
Snoop Dogg, who goes way back with Dre, all the way to The Chronic, also confirmed that the album was finished back in 2008. "That record is real, it's coming," he told Rolling Stone.
Dre began working on this third album almost 15 years ago, in 2000.
BET.com is your #1 source for Black celebrity news, photos, exclusive videos and all the latest in the world of hip hop and R&B music.
(Photo: Christopher Polk/Getty Images for Coachella)