The Extended Trailer for Tupac's 'All Eyez on Me' Biopic Just Made the Wait Even Harder
Is it June 16 yet?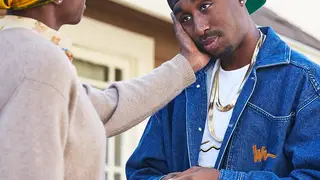 The long overdue biopic celebrating, highlighting and remembering the life and legacy of Tupac Shakur will arrive in 2017, slated for a big screen landing on the hip-hop icon's birthday, June 16.
But if the previously released trailer didn't already intensify fans' itching excitement for the film, the new extended version just triple-quadrupled it.
Demetrius Shipp Jr., the lead of the movie playing Tupac, brings the West Coast legend's short 25 years to actual life.
Pivotal moments, such as his upbringing on the streets of California, the social climate of the West Coast, incarceration, signing to Death Row Records after meeting Suge Knight and even the evening of his demise on September 7, 1996 — the night he was fatefully shot — are major focal points of the trailer as well. The late Afeni Shakur, a revolutionary Black Panther and Pac's dearly beloved mother, is also portrayed in the film from the time he's a young boy and through his young adult years.
Fans may be pleased to know from the trailer that Jamal Woolard, who played the Notorious B.I.G. in the New York rap legend's Notorious biopic, will make a repeat appearance in the same role in All Eyez on Me. With resonating quotes from Pac, Afeni, Suge and other main characters peppered throughout the trailer and intense scenes truly forcing all eyes on the upcoming biopic, there's no question as to how much box office-breaking potential the film has gained already.  
See what's in store on June 16 below.