ScHoolboy Q Almost Made the Ultimate Sacrifice for His Daughter
This is why he's the gawd.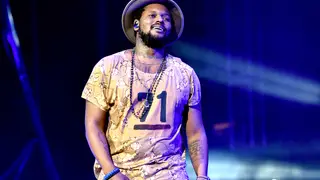 It seems like rappers who have daughters make immediate changes in how they move in the world based on how it affects their families.
ScHoolboy Q is one of those people. In a recent interview with MTV, the TDE rapper opened up about his daughter and claimed that not getting to see a lot of her childhood almost made him quit rapping right after his 2014 Oxymoron tour.
"I toured a whole year, when I came back my daughter was doing different things, talking different," he explained. "I'm at the crucial years of her life, she's only 7 years old. Every time I go and come back she's doing something new. I got tired of missing that, I almost quit rap. Almost… almost happened."
Q further expanded by weighing the balance between doing what he loves and caring for who he loves. He favors his career currently, but things could change at any time.
"It comes to a point where you're starting to put music before your kids, your family, that's not what I signed up for. But, at the same time, it's what pays the bills and what I love to do, my daughter loves to see me do it too," he said. "Can't hang it up yet, but it's getting close though to that point. I'm trying to be more of a father than a rapper that just runs around doing shows, interviews, pleasing everybody."
ScHoolboy Q's daughter, Joy Hanley, has been incorporated into her father's music numerous times. Her likeness was featured on the alternative cover to his third solo studio album. Hanley's vocals have also been used on numerous songs.
Watch MTV's full interview with ScHoolboy Q below.