OPINION: Texas Heads To The Polls In Primary But Voting Rights Are Under Attack
In the first state primary of the 2022 election season, Texans are facing it as legislators pass bills that can hinder the ability to cast ballots.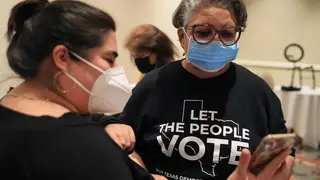 Texas voters are heading to the polls to vote in the primaries on Tuesday (Mar. 1). It should be a day to celebrate our fundamental right to vote and our power to shape the future of our country. But instead, it's a sordid reminder that our democracy is in deep trouble.
Months ago, the Texas state legislature successfully passed SB 1, which included a slew of measures to make it more difficult for people to cast ballots. The law limited drop boxes in the state's largest county to only one, banned drive through-voting, eliminated 24-hour voting, and changed voting poll locations. The new law also gave more discretion to partisan poll watchers, and imposed civil and criminal penalties intended to reduce access to the voting booth and restrict individuals' voting rights.
Additionally, the law made it far more difficult for people to vote by mail. Voters must include their driver's license number or a partial Social Security number when both requesting and returning their ballot. The rule has proven to be a monumental hindrance to voting. About three in ten absentee ballots were rejected in the state's most populous counties – a huge jump from
2020, when just 1 percent of absentee ballots were rejected.
As the head of the African American Mayors Association – which represents more than 500  Black mayors nationwide – I understand just how dangerous such voter suppression measures are for the nation. As mayors, we represent different, diverse constituencies, big and small cities. Yet, what unites us is the knowledge and belief that the sacred right to vote belongs to everyone we represent – rich or poor – Black, white or brown – regardless of where they live, the language they speak, or how much money they make. For every eligible American – the right to vote is sacred and is a cornerstone of our democracy.
The right to vote is not a partisan issue, yet it has become weaponized for political gain. Voting rights have been under attack since the 2020 presidential election as many states have restricted access to the ballot box. The Brennan Center for Justice reports that in 2021, at least 19 states passed 34 laws that make it harder for Americans to vote, and that is unprecedented.
Make no mistake: these laws are targeted. They will make it disproportionately difficult for people of color and the poor to vote.
These changes are not about voter integrity or making voting more accessible or available, and it is disingenuous to say they are about voting integrity. Whether you are Republican or Democrat, we should all be about promoting the right to vote.
The African American Mayors Association has advocated for lawmakers to pass the Freedom to Vote Act and the John Lewis Voting Rights Advancement Act. They must do so, even if it means ending the filibuster.
I was 10-years-old in 1965 when the Voting Rights Act was passed after a filibuster. The law immediately had the federal government and Department of Justice file suit against the State of Texas over the ongoing use of the poll tax. To this day, I remember my parents talking to me, my brothers, and sisters about what that would mean for our country and our democracy. Our country cannot go backward in voting rights.

RELATED: Biden Urges End to Filibuster in Call for Voting Rights: "I'm Tired of Being Quiet!"
We must not allow partisan politics to jeopardize our fundamental rights. My fellow mayors and I will continue to do everything to ensure that our constituents can exercise their right to vote. And we will keep pushing Congress to adopt legislation that makes our elections accessible for all Americans, regardless of political party.
The goal of those passing restrictive voting laws is to preserve power by suppressing the voting rights of those who do not support them. As African American mayors, we must work harder to ensure that our constituents have access to the information needed to vote.
The late Congressman John Lewis reminded us of the importance of this battle when he said the right to vote is precious, almost sacred. It is the most powerful nonviolent tool or instrument in a democratic society, and we must use it.
I call on people of goodwill to join the fight to protect the right to vote. Our democracy depends on it.
—-------------------------------------

Sylvester Turner is the 62nd Mayor of Houston and the President of the African American Mayors Association.