Run That Back: This Week In Music Feat. Drake, Beyoncé, And More
Our music staff picks their favorite songs released April 22 through the 29th, as well.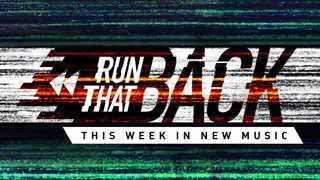 It was a big week for music releases as two REALLY big projects were made public just under a week apart.
First, Beyoncé dropped her sixth solo studio LP and first fully-visual album with LEMONADE. It already pretty much shut down the Internet as rumors were buzzing over Jay Z's possible past infidelity to the Queen. What first sounded like a tell-all album quickly transformed into one of the greatest marketing ploys in music history, as it's been reported that not only did Jay know about the lyrics prior, he probably helped in the creation of them.
Regardless, LEMONADE was the subject of damn near everyone's conversations and the attention it garnered apparently turned into sales as Billboard is projecting the album to debut at no. 1 on their charts. If this happens, Beyonce will become the first artist ever to debut at no. 1 for their first six albums. WOW.
In more recent news, Drake released his long-awaited LP Views (formerly Views From the 6). It's still early pertaining to critical reaction as most of the project's details are still being learned. The Toronto native released the cover art for the album earlier this week.
Other music hit the shelves, streaming services and artist's Soundclouds. Check out a few picks of what our music staff was feeling below.
Lady Leshurr - "#UNLEASHED ("Panda" Remix)
If the transition of Lady Leshurr's "Queen's Speech 4" from a viral sensation to the soundtrack for a Samsung commercial wasn't an indicator of the power of her bars, here's another. The rapstress brings Desiigner's No. 1 hit "Panda" back to its UK origins (producer Menace is from Manchester), and turns the infectious backdrop into a song all her own. Spitting venom at her naysayers, the 23-year-old activates her lightning lyrics to once again prove that she is after the crown. It's an incredible feat to take a wildly popular song and deplete the original version from the listener's mind, but Lady Leshurr succeeds, neglecting Desiigner's barely-audible approach for proclamations she wants you to hear – clearly. – Iyana Robertson

PARTYNEXTDOOR feat. Drake - "Work"
It feels like everyone has in some way tinkered with Rihanna's "Work." They've either remixed it, covered it – hell even Elmo got in on the action. So when a PARTYNEXTDOOR version of "Work" circulates, there are a couple of reactionary emojis that would apply. Before you go reaching for that one with the line across the face in place of a smile, give it a listen. PND and Drizzy together on this re-"Work" turns the track into something totally different. See when Rihanna and Drake are volleying on the song, it feels like Ri is there luring her friend zoned buddy in as she coyly sings and occasionally grinds up on him. With PARYTNEXTDOOR, his Caribbean tinted cadence adds an even deeper dancehall flavor to the cut, but it's all in the way he interprets the lyrics too. He sounds apologetic on the song – and if you've been at all tuned in to his life as of late, then maybe he does have a few things to be sorry about. But it does bring this extra emotional air to it that gets a second wind once Aubrey checks in. So what was originally a playful track amongst plutonic friends transforms into this anthem of regret between drinking buddies. What a time to be alive. - Kathy Iandoli
Lil Uzi Vert - "That's My Rule" (Snippet)
Like the golden rule but trill! Having already been pegged as one of the new artists to watch by Complex and many others, the Philly MC offers doesn't even need a full track to show you why, switching up his tempo, cadence and flow throughout this teaser which runs just under a minute and a half. Peep the simple yet powerful production with a thundering baseline and interspersed percussion and this one is the perfect appetizer to get us ready for that main course. - Jacob Rohn
Havoc & Alchemist feat. Method Man - "Buck 50s & Bullet Wounds"

Havoc's been lowkey since releasing his last solo effort 13 Reloaded. Aside from producing a few tracks here-and-there for Prodigy, the Mobb Deep beatsmith hasn't stepped to the mic in a minute. He still has a few bars stashed away for the right Alchemist beat though. Also featuring Method Man, Hav's most recent "Buck 50s & Bullet Wounds" assumes the emceeing style we've long known from him, though its darkness and more solidified delivery may have a few extra people interested in what they're cooking up with The Silent Partner. The production duo's forthcoming collaborative LP is slated to hit shelves on May 20 and if their first single is any indication, it may be a project worth copping. - Paul Meara
Beyoncé - "Hold Up" (Demo Version)
About five years ago I was at a concert and ran into a former co-worker who, at the time, was working for Diplo's publisher. They'd recently picked up the admin rights to the producer's publishing so I asked what Diplo was working on. Turns out the producer was in sessions with Vampire Weekend – the band Ezra Koeing is the lead singer of. Obviously, since then the pair have released records they worked on in the form of Ezra being featured on Major Lazer records, but "Hold Up" began to develop from those sessions.
Bey's propensity for curating what she actually records is one of my favorite things about her – it employs producers and songwriters and expands the art of both into lucrative careers. Not only does "Hold Up" have this ultra chill vibe and a one-in-a-million vocal stamp but when Bey added the incredible visuals of her tearing the streets up with a bat named 'hot sauce' it pushed what was once a tiny lyric change on Twitter into something gargantuan. #OnlyBey. - Jon Reyes
Mike Posner feat. Big Sean - "Buried In Detroit (Lucas Löwe Remix)"
It's been a interesting few years for former one-hit wonder Mike Posner. From his 2010 hit "Cooler Than Me" to struggling with depression to his 2015 revival on the Billboard charts with a remix of his vulnerably raw track, "I Took A Pill In Ibiza," Posner has seen the best and the worst of the music industry. Now, with his latest release "Buried In Detroit," the singer is going back to his 313 roots and bringing his friend and former collaborator Big Sean along for the ride. - Janice Llamoca
Sky Diggidy feat. Coca Vango & Kap G - "So Many"
Fashion designer turned executive producer and recording artist Sky Diggigy is doing a fine job curating sounds for his forthcoming project Life Of A Pimp. He's been recruiting the likes of Coca Vango and Kap G to help lace an energetic track that is reflective of the forward-thinking rap music coming out of Atlanta right now. Produced by duo Zone36, "So Many" has that club-ready vibe fit for a night out or a Saturday afternoon drive, as the lyrics bounce between themes of the entertainment industry at large to casually setting an unapologetic hustler's tone. This song packs heat and since it clocks in just under three minutes, is worthy of keeping on repeat. - KC Orcutt
BET.com is your No. 1 source for Black celebrity news, photos, exclusive videos and all the latest in the world of hip hop and R&B music.