E-40 And His Wife Tracy Happily Celebrate 31 Years Of Marriage: 'It's Our Anniversary!'
The high school sweethearts have been together since 1985.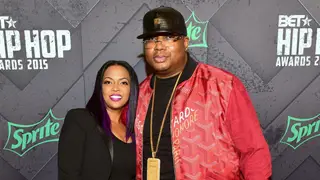 E-40 and his wife Tracy recently celebrated their 31st wedding anniversary! On June 22, the rapper took to Instagram to mark their big relationship milestone with a series of photos highlighting the loving memories they shared over the years.
"It's our anniversary! Today we celebrate 31 yrs of marriage [and] 37 yrs together. Mr. & Mrs. Stevens," E-40 captioned the images, along with the hashtags #blacklove, #mysoulmate, #realvallejo, and #reallove.
FYI: The high school sweethearts have been together since 1985 and tied the knot in June 1991.
In 2013, E-40 revealed that the secret to a long-lasting relationship starts with communication and sharing the same interests. The hip-hop artist told XXL Magazine, "It's always good when two people like the same things. The conversation has to naturally happen. That's when you get into 'what you like' and 'what are you in to.'"
The pair personally enjoy bowling together.
He continued, "Communication, that keeps everything cool. Not holding anything back, you got to tell each other what's on your mind, that's really it. Otherwise when one gets mad at one, it can burst and you just let it out and it can just come out wrong."
The lovebirds are definitely worthy of couple goals! Join us in wishing the married couple many more years to come.