South African College Student Raped And Murdered In Post Office Sparks #AmINext Movement And Protests
#RIPUyinene: Uyinene Mrwetyana is more than a hashtag and her brutal killing is putting a spotlight on violence against women.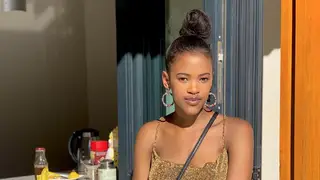 Uyinene Mrwetyana went to the post office to pick up a package. She didn't know that day would be her last. 
The 19-year-old University of Cape Town student went missing more than a week ago. On Monday (September 2), a 42-year-old man, who worked at the post office, was arrested in connection with her disappearance and is facing charges of rape, murder and defeating the ends of justice, reports Times Live.
"You pig," a father of a 13-year-old girl -- who feared for his daughter's safety amid the rising violence against women in South Africa -- yelled at the accused after court on Monday. 
On Twitter, the hashtag #AmINext has become a social media movement of people speaking out about the injustices against women in the country. 
"Rest In Peace Beautiful, gorgeous Uyinene….," one person tweeted after the news broke of her death on Monday. "Yours is a sad reality we wake up too & sleep knowing that it could be me #AmINext"
The tweet was accompanied by a video of the first-year film student, which has been viewed more than 330,000 times.
The Clareinch post office in Cape Town was one of the last places Mrwetyana was seen alive on August 24, reports Times Live.  

According to the South African news outlet, the young woman went to pick up a package shortly after 2pm and the post office worker told her she'd have to come back later that day due to a power outage. 

When she returned she was alone with the worker, who allegedly locked her in, raped her and, after putting up a fight, she was knocked unconscious and "bludgeoned with a scale" to death. 

The accused, whose name has not been released, confessed to the crime and led investigators to a body, which was discovered in Khayelitsha on Saturday (August 31). The identity of the body has yet to be released, pending DNA test results. 

Blood was found inside the post office and the man's car. 

While the court appears to have granted the prosecution's request for a window of time to continue the investigation before his next appearance, they denied bail. 

After his court appearance Monday, the National Prosecuting Authority (NPA) in the Western Cape revealed he had previously been convicted of armed robbery, and had a rape case against him withdrawn, reports Dispatch Live. 

The EFF (Economic Freedom Fighters), a South African far-left political party, said it will take legal action against the government and the post office over the college student's death. 

"Women never get any help from the criminal justice system, it is most useless," he said. "It is therefore the police and criminal justice system that must take the blame [for] why rape has become reality of our daily lives." 

Also, on Thursday (September 5), protestors took to the streets across the country. 

One person marching held up a sign that read, "We live in a society that teaches women to be careful not to get raped INSTEAD of teaching men NOT TO RAPE!"

More than 1,500 people are murdered every month in South Africa, according to government statistics, reports Reuters. 

In 2018, about 3,000 women in South Africa were murdered. That's one woman killed every three hours, which is more than five times higher than the global average, according to the World Health Organization, reports Reuters.

The violence against women has reached "epidemic" proportions, Given Sigauqwe from the rights groups, Sonke Gender Justice told Reuters. 

"These murders are proof that the battleground is no longer nighttime and dodgy spaces … even public spaces like the post office are no longer safe," he added. "We need the criminal justice system to be more accountable and the perpetrators of these violent crimes to face the full might of the law."