This Day in Black History: July 30, 2002
Lisa Leslie is the first woman to slam dunk in a professional game.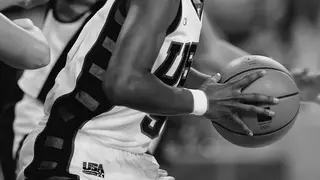 The WNBA's longtime star player Lisa Leslie made history when she became the first woman to dunk in a professional basketball game on July 30, 2002.
Leslie also made history by becoming the first WNBA player to win the regular season MVP, the All-Star game MVP and the playoff MVP in the same season.
Born in 1972, Leslie didn't get into basketball until middle school. She later went on to play for her high school basketball team and then to play for the University of Southern California.
As if the WNBA star's accomplishments weren't enough, Leslie also helped bring the Olympic women's basketball team to victory in the 1996 Olympics in Atlanta.
The years following her Olympic gold win, Leslie continued to win championships and MVP honors before becoming the first woman to slam dunk in a professional game.
In her 12-year basketball career, Leslie scored over 6,200 points.
BET Sports News - Get the latest news and information about African-Americans in sports including weekly recaps, celebrity news and photos of your favorite Black athletes. Click here to subscribe to our newsletter.  
 (Photo: Mark Dadswell/Getty Images)