Samuel L. Jackson Gives Us The Best Reason Ever To See 'The Hitman's Bodyguard'
LOL.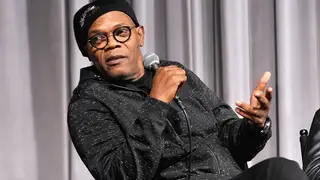 Samuel L. Jackson returns to the big screen tomorrow with The Hitman's Bodyguard. The action comedy stars the acting legend and Ryan Reynolds as a bodyguard (Reynolds) who is hired to protect a hitman (Jackson). If you were unsure about seeing the film, Jackson's pitch to BET.com will have you sold. 
In the interview above, Reynolds and Jackson discuss their characters and Reynolds even reveals his favorite Jackson film. But when asked by our reporter Brandon Claybon to tell the BET.com audience why they should see the film — in as many curse words as possible — Jackson delivered!
We can't count how many curse words he used but, trust us, it took significant time to add all of these bleeps. Watch above!
The Hitman's Bodyguard hits theaters tomorrow.