Hip Hop Awards 2023: 5 Songs You Didn't Know Were Produced or Written by J. Cole
This year's nominee has created classics for stars like Kendrick Lamar and Diddy.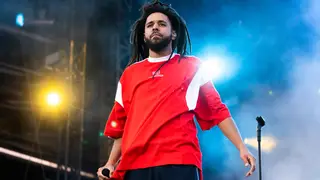 J. Cole has not only solidified his position as a formidable artist in hip-hop but has also made a significant impact as a writer and producer for songs by several chart-topping artists. The industry veteran has worked with Diddy, Kendrick Lamar, Gucci Mane, and Janet Jackson, to name a few.
In recognition of his outstanding contributions, the German-born emcee has received several well-deserved nominations at the "BET Hip Hop Awards" 2023 in categories including "Lyricist of the Year'' and "Hip Hop Artist of the Year." Ahead of this year's ceremony hosted by rapper and co-executive producer Fat Joe, check out five songs you probably didn't know were written and/or produced by this year's nominee. And don't forget to catch the "BET Hip Hop Awards" 2023, premiering on Tuesday, October 10, 2023, at 9 PM ET/PT on BET.
Kendrick Lamar - "HiiiPoWer"

Released in 2011 on Kendrick Lamar's debut studio album "Section.80," the track served as a powerful anthem for conscious rap, blending Kendrick's thought-provoking lyrics with Cole's skillful production. The track features soulful samples and intricate drum patterns from Pharoahe Monch's "Simon Says" and Kanye West's "So Appalled."

Diddy / Dirty Money - "Coming Home"

Cole wrote Diddy and Dirty Money's 2010 single "Coming Home" alongside several notable writers, including Alex da Kid and Skylar Grey. Alex da Kid and others handled production.

Cordae - "Two Tens" ft. Anderson .Paak

The veteran rapper teamed up with producer Dem Jointz for "Two Tens," the latest single from rappers Cordae and Anderson .Paak. The jazzy, neo-soul forward track. The song peaked at no. 25 on Billboard's Bubbling Under Hot 100 Singles.

Travis Scott - "Mafia"

Cole helped write Travis Scott's 2021 single "Mafia" and contributed additional vocals on the Boi-1 da-produced song.

Mac Miller - "Hurt Feelings"

The rapper was all hands on deck on Mac Miller's 2018 "Hurt Feelings" project, contributing as co-writer and co-producer. The song is featured on "Swimming," Mac's last album released before his untimely passing on September 7, 2018.

Watch the Hip Hop Awards 2023 on Tuesday, October 10, 2023, at 9 PM ET/PT on BET.