Khloé Kardashian Might Want To Ask Tristan Thompson What He's Doing With This Woman At A Bar In NYC
The pregnant reality star is currently nesting in Cleveland.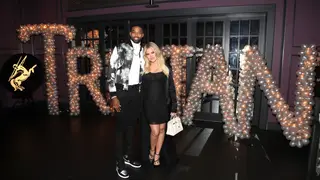 While Khloé Kardashian is currently pregnant with her first child with NBA star Tristan Thompson, it is being reported that the athlete is out and about cozying up to another woman out in public, and there's video proof of the interaction.
According to The Daily Mail, Thompson was filmed getting "up close and personal" with a "mystery brunette" while on a night out in New York City this past weekend. Kardashian is currently back in Cleveland, mere days away from giving birth.
Thompson was seen getting close with the unidentified woman at PH-D Lounge, a popular rooftop bar in Manhattan, on Saturday night.
Fellow patrons filmed Thompson leaning in for a kiss as he spoke to the anonymous woman.
In the clip, the woman can also be seen draping her arm around the baller's shoulder and pulling him in. The video also seemed to capture the two having a conversation before the woman leaned her head into the hood of Thompson's sweatshirt.
The two appear to share a kiss as she leaned in closer with her eyes closed.
The person who filmed the intimate moment told the publication, "I was there and he was on the table right next to us with a group of friends and some girl who he was obviously making out with all night.
"They were holding each other and it was so obvious," she continued. "They were there when I got there and they were part of a big group of friends."
Neither Thompson nor Kardashian have publicly commented on the alleged make-out session.