Beyoncé Releases 'Lemonade' On All Streaming Platforms And Adds New 'Sorry' Demo Track
Oh, happy day!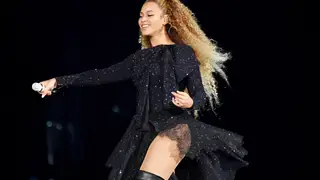 In what may have seemed like forever for non-TIDAL BeyHivers of the Apple Music and Spotify-streaming world, Beyoncé stopped the world with the drop of another surprise from a three-year-old gift that keeps on giving: her 2016 Lemonade opus.
The Grammy-nominated album received critical acclamation from all over the world, leading the Queen Bey discography as one of her most personal, penetrating and praised bodies of visual and musical works to date. For the album's three-year anniversary, Bey released the project, which was formerly only available via TIDAL, on all platforms including Spotify and Apple Music on Tuesday (April 23) for BeyHivers of all music-streaming creeds to sip on. TIDAL subscribers who got their taste back in 2016 weren't left out of the surprises either, as Bey also included a spanking-new rendition of one of the album's fan-favorited singles, "Sorry." The demo version, fittingly titled "Sorry (Demo)," includes all the self-empowerment lyricism of the Lemonade track, but with a twist of softer vocals, reduced instrumentals and somber feel to the record's aura—a stark contrast from the up-tempo original. 
And BeyHive Twitter can't thank their queen enough for her genius and her generosity.
Relive her Lemonade brilliance and listen to the new "Sorry (Demo)" addition below: