Activist Removes Confederate Flag From Monument
Black woman arrested by S.C. State Capitol police after she scaled the pole.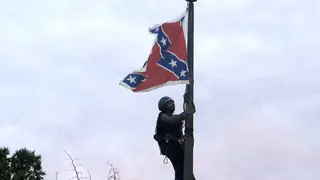 A Black female activist was arrested Saturday (June 27) after climbing a flagpole on the State Capitol grounds in Columbia, South Carolina, to remove the Confederate battle flag from a Civil War monument. According to USA Today, police waited for her at the bottom while she scaled the 30-foot pole to retrieve the flag.
Reports state that the flag, which is protected by state law, was raised again shortly after the incident.
The activist group known as Ferguson Action tweeted that the woman, who has been identified as Bree Newsome, was arrested. The activism group posted a series of tweets and photos in support of the young woman, and also created the hashtag #FreeBree in support of her efforts.
According to reports, a pro-flag rally was planned at the site for Saturday morning.
"We can't wait any longer ... We can't continue like this another day," Newsome said via statement from Black Lives Matter to CNN. "It's time for a new chapter where we are sincere about dismantling white supremacy and building toward true racial justice and equality."
She recited Psalm 23 as she was being arrested, as seen in one viral video.
The Confederate flag has been the topic of headlines lately following the unjust killings of nine Black parishioners at the historic Emanuel African Methodist Episcopal Church in downtown Charleston last week. Gov. Nikki Haley has called for the flag to be removed and the House of Representatives has agreed to debate the issue.
Take a look at Newsome's brave attempt in the clip below.
(Photo: Ferguson Action via Twitter)
Click here for a chance to win a girls' trip to Miami!
BET National News - Keep up to date with breaking news stories from around the nation, including headlines from the hip hop and entertainment world.
(Photo: AP Photo/Bruce Smith)