EXCLUSIVE: Torrei Hart Just Set Her Daughter Up For A Major Inheritance
Torrei Hart is building an empire that she hopes to pass down to her daughter. More proof she's much more than "just someone's ex."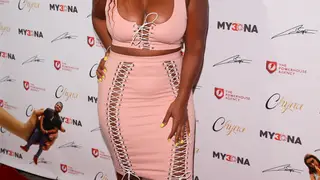 When you initially Google Torrei Hart's name, most of the results almost immediately drum up her past—and her very public breakup with her ex-husband, Kevin Hart.
But the former veteran, touring comedian, super mom and now beauty entrepreneur wants you to know she has much more up her proverbial sleeve. "Honestly, I don't get offended [when people refer to me as an ex] because that's all they know," she shares exclusively with BET Style. "It's a part of my legacy and that's OK. But I'm here to let them know, I'm more than that."
Drama aside, Torrei acknowledges her streamlined co-parenting schedule allows her to wear multiple hats. "I get three days out of the week to kinda just take me time and really focus on everything that I need to do. So, when the kids go to their dad's for that period of time, I'm super zoned in on what I have to get done and I make it work."
One of her biggest priorities? Growing her natural hair care brand, Heavenly Hart, named after her daughter. The collection of seven products came to Torrei while she was in yoga class (she's loyal to hot yoga, more on that later) since she struggled to find a "young, hip hair brand that's connected to this generation."
Like Jay-Z raps about in "Legacy," Torrei also is forward-thinking when it comes to generational wealth. "I was inspired by my daughter [to create the line]. I wanted to present her with a gift when she turns 18. So, more than anything, it's a message, a self-love gift to her and reminder to women just to love yourself and go after whatever you want."
Torrei developed the line with Nzuri in tandem with a chief trichologist Leola Anifowoshe to ensure ingredients like pumpkin seed oil, coconut oil, yucca root extract and silk amino acids worked from the inside out.
"We specialize in hair scalp therapy and hair rejuvenation," Torrei adds. "We have a product that is a medicated hair scalp spray ($19.95), which rejuvenates the scalp, and it's oxygen based, too. Also, the leave-in conditioner ($14.95) is another really good one. We have a hair soufflé ($21.95), which is great—it's a moisturizer."
"[I love] the shampoo and conditioner ($36.95)—when you put that conditioner in, your curls are bouncy. Your texture is just soft and enhanced. But the top seller I would have to say, that a lot of people love, is the medicated scalp spray, because you just feel it working. That and the growth serum are pretty popular." 
Speaking of hair, Torrei's lush locs: what inspired her to switch it up? "To be honest with you, I was just lazy," she laughs. "I was tired of doing my hair every day. I was tired of wearing wigs. I was like, 'You know what? I'm lockin' it.' It's natural. It's who I am and so, I locked it. My mother also has locs so she was an inspiration. She's had her hair locked now for almost 20 years.
"And it wasn't that hard for me because I actually went to a lady who was able to add a few pieces in the beginning process. And as it started growing, she would just like razor them out. So, I didn't have that awkward, awkward, phase in the beginning."   
Skin care is something else Torrei is passionate about. During the interview, we discovered she suffered from adult acne for a brief period. "I had really bad skin at one point and especially when I was doing Atlanta Exes. It came through, especially wearing makeup all the time. So, I actually had to go on Accutane. And Accutane, it's the last resort. But it got my skin it's like a miracle drug.
"Then, after Accutane, I started doing microdermabrasion. And my dermatologist in Beverly Hills, Dr. Susan Evans, she started doing peels on me as well. It took work [to get my skin where it is now] because acne is hereditary in my family. My mother had adult acne up until she was 60 years old! So I already knew I was going to have it and take the proper precautions to keep it under control." 
Finally, we couldn't let Torrei slide out without getting the scoop on her fitness regime—a mix of hot yoga and running.
"[Hot yoga] is mental. I'm sweating, I'm burning calories, and then I'm in there spiritually. You know, when you find a good teacher that you connect to, it's so much that you can get from that, from hot yoga.
"My eating routine is not the best that I'd like it to be, but I'm working on that. And I do believe that once I get everything in alignment that, you know, I'll be at my best figure that I want to be at. I love my shape right now but I would like a few little tweaks to it."
If she needs to get pumped up, she turns to Jackie O., a Miami-based artist similar to Trina. "Let me tell you something, I listen to Jackie O. every day," she laughs. "She's got one song that's called, 'Damn, That Bitch Is Fine.' I play that all the time, every day."
In terms of her next chapter? "I can only keep pushing forward and showing people what I do—and they'll catch on. They're gonna catch on real soon. It just so happens that he [Kevin Hart] blew before me, and that's OK—but I've been training [for success] since I was about 7 years old." 
In so many words, watch out world—Torrei Hart is coming for hers in 2018 and beyond.