Report: Paula Patton and Robin Thicke's Son Is 'Freaking Out' Amid Parents' Custody War
Julian Fuego is just six years old.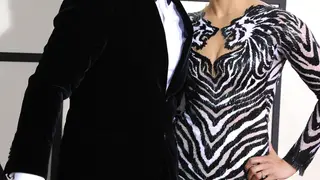 Paula Patton and Robin Thicke's ugly divorce and even uglier custody battle reached a peak this past week, when Patton requested full legal and physical custody of their son Julian Fuego by claiming Thicke was an abusive husband and father.
The actress was granted her request after a judge unearthed records from years ago alleging Thicke beat her during their marriage, and had a serious problem with cocaine. The singer denied those allegations and claimed they are conveniently timed to win Paula custody of their son. 
Meanwhile, one person is seriously suffering in this fight: the couple's six-year-old son, Julian. Things have gotten so bad with the young boy that Paula is even calling truce on the legal proceedings between her and Robin to focus on his issues.
According to TMZ, Paula temporarily has both full physical and legal custody of Julian, but is hitting pause on pursuing any kind of permanent arrangement in order to ensure the six-year-old gets the help he needs.
The site's sources say "Julian is acting out in troubling ways, which include hyperventilating and just 'freaking out.' She's putting the boy in therapy to figure out what, if anything, happened to him and how to fix it."
The family were reportedly in therapy together until recently, though that likely ended when Patton got a restraining order against Thicke last week. Hopefully they are finding other ways to help their son.