See The Unique Way Rick Ross Is Debuting His Daughter To The World
Interesting.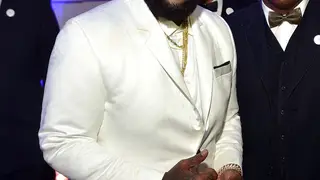 Rick Ross is now a father, and he's showing off his entry into fatherhood in an interesting way: by surrounding his newborn daughter in wads of cash.
The 41-year-old rapper, who reportedly fathered the newborn with model and self-proclaimed fitness enthusiast Briana Camille, posted a clip of the baby surrounded by stacks of $100 bills.
While Ross seems to be embracing his new role, Briana is yet to officially confirm that he is the father of the child, though it's been rumored for months that he is. Her relatives, however, seemed to confirm the news in an IG post, showing the rapper with a few of her relatives.
This is Ross' third child. He has two children, Toie Roberts and William Roberts III, from a previous relationship.
Get the latest on the rapper and his newborn with BET Breaks, above.