Cholera Deaths Reported In Haiti For First Time In 3 Years
It's raising concerns about a potentially fast-spreading scenario.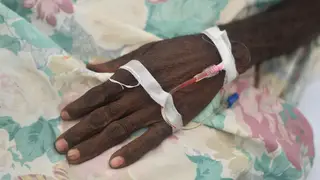 On Sunday (October 2), the government of Haiti announced that at least eight people have died from cholera. These are the first reported deaths from the disease in three years.
According to the Associated Press, the cases came in a community called Dekayet in southern Port-au-Prince and in the gang-controlled seaside slum of Cite de Soleil, where thousands are living in cramped and unsanitary conditions.
"Cholera is something that can spread very, very quickly," said Laure Adrien, director general of Haiti's health ministry.
The deaths are raising concerns about a potentially fast-spreading scenario and reviving memories of a cholera epidemic that killed nearly 10,000 people in the Caribbean nation a decade ago.
Food or water contaminated with the cholera bacteria can lead to severe dehydration and diarrhea that can be deadly.
In a statement, the United Nations said it's working with Haiti's government to "mount an emergency response to this potential outbreak," and that medical professionals need to be guaranteed safe access to areas where cases have been reported.
The cholera deaths come as ongoing protests and a lack of fuel have shut down basic services across Haiti. Medical care and clean water are key in order to keep patients alive and help fight the disease.