Jordyn Woods Asks Fans To Pray For BF Karl-Anthony Towns
The NBA player was diagnosed with COVID-19.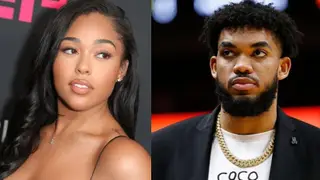 Jordyn Woods posted an Instagram message on Saturday (Jan. 16) asking them to pray for her boyfriend Karl-Anthony Towns' recovery from COVID-19, according to US Weekly. She also updated fans on her own health, and whether or not she was also infected.
"I just wanted to thank you for all of your support, prayers and concern. My family and I all got tested for COVID and the results came back negative so we are all good but continue to pray for Karl for a speedy recovery," she wrote.
The Minnesota Timberwolves player revealed his positive diagnosis Friday (Jan. 15) on social media.

"Prior to tonight's game, I received yet another awful call that I tested positive for COVID. I will immediately isolate and follow every protocol," Towns wrote.
The 25-year-old NBA star's family has been hit hard by the virus. He lost his mother in April 2020 to COVID-19, which also killed six other family members who died from complications stemming from the virus.
Woods, 23, tweeted this message after her boyfriend announced the positive test: "Praying for you babe. I know you're going to pull through. God's got you and so does your most powerful guardian Angel up there. you're one of the strongest people I know. Please send some prayers up.
In his tweet on Friday, Towns urged his fans to not let their guard down with the virus and to follow safety guidelines.
"I pray every day that this nightmare of a virus will subside and I beg everyone to continue to take it seriously by taking all of the necessary precautions," he wrote.