Jeezy Reportedly Files For Divorce From Jeannie Mae After 2 Years of Marriage
They share a 1-year-old daughter.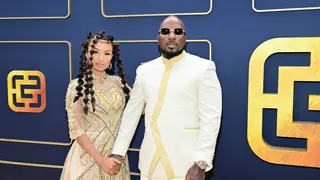 Jeezy and Jeannie Mai are calling it quits.
After two years of marriage, the Atlanta rapper filed for divorce from the TV host at the Fulton County Superior Court, according to The Atlanta Journal-Constitution. Jeezy –whose legal name is Jay Jenkins– is reportedly already separated from Mai, and they have a signed prenuptial agreement.
The rapper –who helped put Trap Music on the map– exchanged vows with Mai at their Atlanta home in March 2021.
The now-separated twosome met when the artist appeared as a guest on Mai's syndicated talk show The Real before it was canceled.
After their initial introduction, Mai told Vanity Fair, "Years later, he asked me out on a date." She added, "We shared a romantic sushi dinner in Los Angeles and salsa danced the night away. Later that evening, he asked if I could picture spending the rest of my life with him. And crazy enough, I could."
Jeezy and Mai are also parents to a one-year-old daughter, Monaco Mai-Jenkins, for which he is seeking joint legal custody, according to AJC.
Earlier this year, the proud mom appeared on The Jennifer Hudson Show and explained the importance of teaching their baby girl about her heritage, as reported by PEOPLE.
"I love her so much, she's so opinionated. And I think the best thing is learning how to really teach her how to own who she is," she shared. "She's a beautiful blend of being Black and Vietnamese and I want her to really understand what that means as a powerful woman today."
"We try to have her spend time with her Southern grandparents in Atlanta, in Georgia, and then she goes down to the Bay, and she spends time with my Vietnamese grandparents all the time. So, she understands both sides, and I only speak Vietnamese to her. And then Dad only speaks the South to her," she joked.