Suge Knight Reportedly Signed His Life Rights Over To Ray J
A documentary is now in the works about the Death Row Records founder.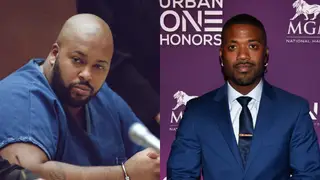 It'll be a long while before former Death Row Records CEO Suge Knight is a free man again. The rap mogul is currently serving a 28-year prison sentence after pleading no contest to voluntary manslaughter last fall.
The report didn't delve into much specificity as to what exactly the deal will encompass, but the R&B singer will have free reign to consider deals in film, television, books and more detailing any period of Knight's life he chooses. A documentary on Knight and his infamous record label is already in the pipeline, though it's unclear if Ray J is connected to this particular project. Due to be released from prison around 2046, Knight will be behind bars until he is 81 years old.