Dear Stephen Colbert: Sean Spicer At The Emmys Is Why We Struggle To Trust White People
Was I foolish to expect more from you?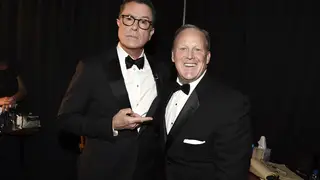 First of all, I live near your town and I'm familiar with all you do for social causes. You lend your name to all kinds of fundraising events. You donate to many causes for the creative arts. And on your show, you never shy away from taking on serious political issues. As far as I can see, you talk the talk and you walk the walk.
But this time, clearly, you got tripped up. And now I'm concerned that you think, like so many white folks do, that doing the least deserves a pat on the back. Because welcoming Donald Trump's former White House press secretary, Sean Spicer, on the Emmys speaks volumes about both of you.
How on earth did you think that having him kick off his Redemption Tour at the Emmys, where you and your colleagues gave yourself several rounds of applause for your part in the Resistance, made sense? Did you realize this was normalizing both Spicer and his former boss Donald Trump? Is it time to make jokes about Spicer's role in enabling the most destructive administration in the history of our democracy, not 60 days after he left the West Wing? It's not. And it never will be.
Backstage, Spicer was treated like a good-ole-boy by you and many of your colleagues who made the bit come together. I know things like this take time and it's difficult to keep them secret. This wasn't a spur of the moment decision for any of you. The decision to have Spicer on the show was made some time ago, and I know you didn't work alone:

Stephen, this whole thing reminds me of one of those moments that makes me ask: Who Was In The Room When This Was Approved?

Earlier this year, Pepsi thought it made sense to release an ad featuring Kendall Jenner using clueless protest imagery. It was so bad that there were no pro and con sides. Everyone was united — the ad was horribly misguided. Pepsi got the message and it was pulled the next day.

Pepsi, a huge conglomerate, got it all wrong. Likely because they didn't have the right people in the room. But alas,  I expect more from you. At least I did before I started writing this story. But peeking into a few other rooms that you command confirmed my worst fears.

I just checked out your writers room, that place where you go to make sure your jokes make sense. The place where you have people who can check you if you veer off and do something ridiculous, like invite Donald Trump's spokesman to the Emmys for a ki-ki moment.

Like, seriously. Over a dozen writers — and not a single writer of color. This all makes sense now. Even if you had a different team of writers for the Emmys, I see that you have a serious sense of white privilege that keeps you from seeing how legitimizing both Spicer and Trump is Not Okay. You may as well have given Spicer a Pepsi and told him to hand it off to Issa Rae.

And that, unfortunately, is what this is about. I'm disappointed by this segment you produced. And yet it makes perfect sense that in the echo chamber of the all-white writers room, the laughs would come easy. But Sean Spicer's position was anything but funny — especially to those of us who live in fear of his former boss' tyranny every day. The face I saw every morning feeding me distressing news from an unhinged president — nothing about him could ever be funny to me. Not now. Not ever.

Stephen, you and I both know we can go on with present-day scenarios from Trump that are devastating to our safety. And until just 60 days ago, Spicer was his mouthpiece, tasked with feeding the media outright lies. And he has neither apologized nor atoned for his sins. Indeed, he was on The Jimmy Kimmel Show just a few days ago defending his role with the Trump administration.

To bring this man on stage and baptize him with a joke was a slap in the face to all the Black and brown folks who made history on it that same night. It also reaffirmed the worst suspicions that so many of us have about our white "allies." How do you think Black, gay Lena Waithe and Muslim immigrant Riz Ahmed felt when they spotted Spicer in the green room backstage?

Just check your rooms, Stephen. And check your own privilege while you're there.

"I speak the truth, you're a liar / He's like Sean Spicer mixed with a singing Uber driver." — Riz Ahmed