Serena Williams' Daughter Is Co-Owner Of LA Golf Club
She is the 'youngest 2-team owner' in professional sports.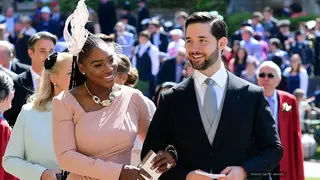 Serena Williams and husband Alexis Ohanian are teaching daughter Olympia about financial literacy through ownership, where she will eventually be at the forefront of creating opportunities for women's sports.
Olympia, 5, is now co-owner of the Los Angeles Golf Club, along with both parents, according to an Instagram post by Ohanian, which shared the exciting news.
"Announcing my fellow co-owner of @wearelagc...@olympiaohanian!" the Reddit co-founder captioned the post. "Olympia is the youngest owner in professional sports (@weareangelcity) and is now the youngest 2-team owner in professional sports."
"She'll be joined by her future sibling 🥳," he added.
It's not Olympia's first so-called purchase of a sports team. Ohanian in March talked to PEOPLE magazine about her ownership in the Angel City Football Club, noting that she doesn't "actually understand" her stake in the business.
"Right now all Olympia knows is that Angel City FC is our team, and she loves cheering for them," the tech entrepreneur told PEOPLE. "I think as she gets older, maybe she'll come to see the different layers to it."
He explained why the couple made the decision to put the clubs in Olympia's name. 
"I'm personally investing on behalf of my family because creating more opportunities in women's sports is important to my wife @serenawilliams and me, and we want to be a part of making a better future for our daughter @olympiaohania," he wrote on Instagram.