Naomi Osaka's Boyfriend Cordae Reveals Daughter's Name During Concert
The young couple recently welcomed their first child together.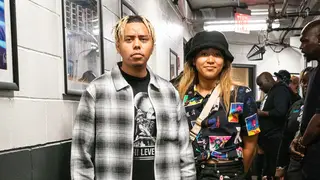 Rapper Cordae dedicated a recent performance to his newborn daughter with four-time Grand Slam champion Naomi Osaka and shared her name with the audience.
"My daughter Shai was just born a couple days ago, so I dedicate this performance to my baby girl Shai," he told the audience at Canada's Calgary Stampede.
"Love you, I'm going back home," he said earlier this week.
A fan caught the announcement on video and shared it on Twitter.
In April, Osaka told PEOPLE that they had been considering baby names for their baby girl. "We have been discussing names. I would say that we are going for something more unique than traditional," she said.
The couple hasn't confirmed the baby's name.
She also opened up to the outlet on her pregnancy cravings, and admitted that she "haven't craved anything out of the ordinary."
The tennis star revealed that she and Cordae were expecting a baby girl earlier this year at a princess-themed baby shower.
A source told PEOPLE that Osaka, 25, gave birth last week in Los Angeles. "They are doing well."
The proud mom broke the news she was expecting on Instagram in January. She shared a sonogram of her growing baby, along with a heartfelt message.  "I know realize that life is short and I don't take any moments from granted, everyday is a new blessing and adventure. I know that I have so much to look forward to in the future, one thing I'm looking forward to is for my kid to watch one of my matched and tell someone, "that's my mom", haha."