Letitia Wright Says She's Moved On In A 'Healthy Way' From Her Anti-Vaccination Tweet
The actress' previous comments riled up many people who thought they were uninformed.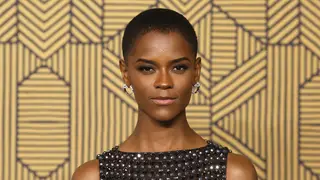 Letitia Wright is opening up about her vaccine comments and shares how she's "moved on" from the blowback she received, telling The Guardian she's apologetic for any hurt she may have caused.
"I feel it's something I experienced two years ago, and I have in a healthy way moved on," she expressed.
"And in a healthy way, I've apologized and deleted my Twitter. I just apologized for any hurt that was caused to anybody."
In 2020, Wright retweeted an anti-vaccination video that caused a stir on social media.
The Black Panther star defended her actions at the time, saying, "If you don't conform to popular opinions. but ask questions and think for yourself....you get canceled."
She followed up with a tweet, writing, "my intention was not to hurt anyone, my ONLY intention of posting the video was it raised my concerns with what the vaccine contains and what we are putting in our bodies. Nothing else."