Zoë Kravitz Talks About Her New YSL Scent and Refusing to Remove Her Signature Braids
The actress has been the face of YSL Beauty since 2017.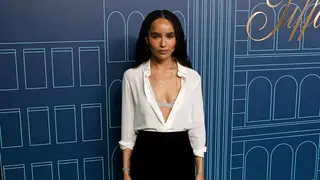 Zoë Kravitz may be a "nepo baby" the name for a Hollywood star who comes from famous parents (Lenny Kravitz and Lisa Bonet). But, she has repeatedly shown that she brings her own star power to every project that she works on.
In a new interview with Elle, the 34-year-old star shares that she has a strong relationship with YSL Beauty where she has been the face of the brand since 2017. "YSL has been so wonderful in terms of getting to know me and allowing me to me be," Kravitz says. "It feels effortless because I don't have to transform into something that I'm not to represent the brand."
Kravitz has input on fragrance and skin items, she happens to love the widely coveted Rouge Volupté Shine Lipstick Balm.
When it comes to fragrances, she is currently rocking the new release Black Opium Le Parfum. The magazine describes it as having a "warm spicy presence that mesmerizes the senses." However, there is another familiar fragrance that she shares that she associates with her famous mother, Lisa Bonet.
"Yeah—nagchampa," Kravitz reveals of the incense that's often burned to encourage a sacred space and meditative environment. "She's always burning it in the house." Nagchampa is made from a magnolia flower, sandalwood, and halmaddi, a tree resin.
She also addressed becoming known for her microbraids which she has been wearing for years. She noted that before the civil unrest that came in the wake of the police murder of George Floyd that she was often asked to change her hair. "I would do a shoot, and this still happens to be honest, where they'll say, 'Can you take your braids out? Because we want to do something else.' And I always reply, 'Pretend this is the way it grows out of my head. You don't ask people that have long blonde hair to change their hair every time they do a shoot.' It's interesting that I'm often asked to pop them braids out. Do you know how long this takes? And it's also the way I wear my hair."
She noted that she can spend up to 15 hours getting her hair braided and that she uses the time as "a great excuse to not have to do anything."
As far as being a Black woman in Hollywood, Kravitz is happy for progress. She added, "I think there's more of a consciousness around making sure that Black women, Black people, get to be a part of stories that go beyond stories about being Black, and then also finding ways to bring that truth into a story."
"For a long time, it was about being—if it was a Black woman, with a white man, it was about that, you know what I mean? It couldn't just be a love story between two people. I think that's really exciting. And ways I would like [the industry] to continue to grow—I want more Black directors. I want more Black female directors. In terms of telling our story, I would be excited to work with more Black female directors. So let's make more room for that."