Meek Mill Pays Homage To PnB Rock At Bowie State University Concert
The rapper recently performed at Bowie State University.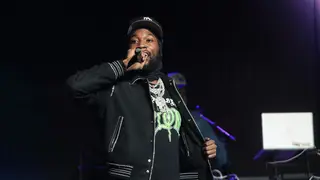 While performing at a homecoming concert at Bowie State University, Meek Mill took a moment to pay his respects to PnB Rock, who was shot and killed while dining at a Roscoe's House of Chicken and Waffles restaurant in Los Angeles, California, on Sept. 12.
"Hold up, this is where I want to represent for my f**king dawg," said Meek in a clip posted on Twitter. "Rest in peace to f**king PnB Rock; I don't even want to talk about that s**t."
He then recalled a previous performance he was a part of alongside PnB.
"The last time I performed at a college, it was in the DMV with PnB Rock," Meek continued performing to his song "Dangerous," which features the late rapper and Jeremih. "Rest in peace to my motherf**king brother."
PnB Rock is best known for his single "Selfish", which reached no. 51 on the Billboard Hot 100 in 2016. His other hits include 2019's "Middle Child" featuring the late XXXtentacion and his feature on Kodak Black's "Too Many Years."
The Los Angeles Police Department has identified three people connected to PnB's death, a 17-year-old shooter, who has not been named, along with his stepmother Shauntrel Trone and his father, Freddie Lee Trone, who has been arrested and taken into custody.