A Fourth Person Is Wanted In The Murder of PnB Rock As New Details Emerge
LAPD claims the plan to rob the rapper unfolded after he and his girlfriend entered the restaurant.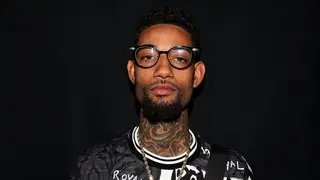 According to FOX- LA, a 17-year-old teen is now the center of PnB Rock's murder investigation.
The Los Angeles police are searching for a fourth suspect, and authorities suspect that the accomplice may have given the Trone family information on the deceased rapper the day he was killed. Freddie Lee Trone and his wife Shauntel have been named as suspects in PnB Rock's murder. The fourth suspect hasn't been identified.
The Los Angeles prosecutor claimed the unknown man clocked the rapper's arrival with his girlfriend at the Roscoe Chicken and Waffles on September 12. The 30-year-old emcee's extravagant jewelry put the suspect on notice.
The patriarch and the unnamed man reportedly discussed the plan to jack PnB Rock. Trone left Roscoe's and returned with his armed son to rob the rapper. The 17-year-old teen was dropped off near the eatery, where he reportedly walked up to PnB Rock pointing a gun, saying, "Give me all of your jewelry now!"
He allegedly shot the rapper in the chest, PnB fell to the floor, and the  17-year-old boy fired two more shots in the back. He also yelled at his girlfriend, Steph, "Show me your hands, give me that — right now. I swear to God! I shoot you in the head!"
The teen also swiped her jewelry. While the rapper was on the ground bleeding, the teen robbed him also.
He allegedly escaped with his father and discarded the clothes used in the heist.
Freddie Lee is waiting to be extradited from Las Vegas, but Shantel and the teen are in police custody. The trio faces felony murder charges.
The teen has set to have a pretrial hearing on October 19.