BET Remembers Tina Turner With A Special Tribute
BET & ET present 'Tina Turner: Life and Legacy' airing May 25, AT 9 PM ET/PT ON BET.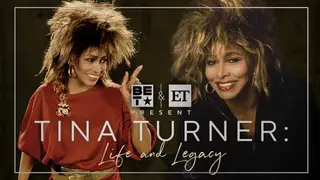 BET will honor the legacy of Tina Turner with an exclusive news special, "BET & ET PRESENT TINA TURNER: LIFE AND LEGACY," airing May 25 at 9PM ET/PT on BET. This BET and Entertainment Tonight production will weave archival footage and interviews of 12-time GRAMMY® award recipient and double Rock & Roll Hall of Fame inductee Tina Turner at various stages of her life, reflecting on her career. More details on the special and coverage plans to be revealed shortly. BET HER and VH1 will air an encore of the special FRIDAY MAY 26, AT 10 AM ET/PT AND AT 6 PM ET/PT, respectively.
"Tina Turner was a global powerhouse, humanitarian, and undisputable Queen of Rock & Roll. We are deeply saddened by the news of her passing," said Scott Mills, President and CEO, BET Media Group. "Tina Turner's gritty vocals, high-octane performances and award-winning platinum hits are unforgettable. Her rise from humble beginnings to overcoming professional and personal adversity led her to become one of the most successful recording artists of all time. We join so many in celebration of her life, legacy, and immeasurable contributions to the arts. She was simply the best."
"BET & ET PRESENT TINA TURNER: LIFE AND LEGACY," will recount some definitive moments in the life of Tina Turner, including how she didn't think "What's Love Got To Do With It" would become a hit; her dream of becoming an actor; and never giving up on finding true love.