YG Signs to Young Jeezy's CTE
Compton rapper teams up with Atlanta native for debut album.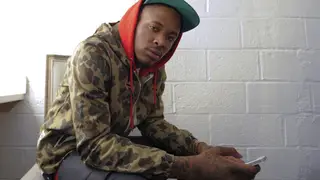 Young Jeezy is very busy fattening up his Corporate Thugs Entertainment roster. The latest signee is YG, who, three years after his breakout "Toot It and Boot It" single, has yet to drop an album.
The Compton rapper revealed the news during an interview with Phoenix radio station Power 98.3's Bootleg Kev. He also said it's not his fault that he hasn't released an album. "It's timing," the 23-year-old explained. "It's the politics you gotta' play with the label. The games you gotta go through … you gotta' f--- with the right people."
"Right now," he added. "I'm f---in' with the right people ... I got Jeezy in my corner. He at the label going hard for me. I'm corporate thuggin'. We linked up, we partnered up."
The two first met at an L.A. nightclub. Jeezy heard YG's music inside the venue and the rest is history. "We been f---in' with each other for years, just building, recording, talking about what we gon' do."
Joining CTE adds YG to the likes of USDA, Slick Pulla and Doughboyz Cashout. His debut album, I'm 4rm Bompton, will be executive produced by Jeezy. A release date has yet to be announced.
Just last week, Freddie Gibbs called the Snowman a "fraud" when it came to cultivating CTE talent.

BET.com is your #1 source for Black celebrity news, photos, exclusive videos and all the latest in the world of hip hop and R&B music.