Look: Police Say This Woman Staged Her Own Abduction to Get Revenge on Her Cheating Boyfriend
Miami PD searched tirelessly for Samantha Martinez.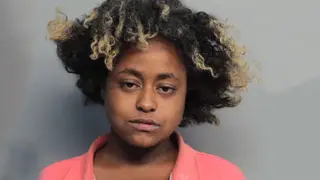 At the end of November, Miami police started an active search for Samantha Martinez, who they believed had been abducted by a violent drug dealer.
Detectives reached out to local outlets, posted on Twitter, and plastered the city with Martinez's image with the hope that someone would have some information. Investigators worked tirelessly "around the clock" to bring the missing 21-year-old back home safely, reported The Washington Post.
However, their search came to a crashing halt on Tuesday when they learned that her "abduction" was a plot for revenge, police said. As a result, they arrested Martinez.
The initial ruse began last Saturday when Martinez's boyfriend, Jonathan Johnson, came forward and said that he hadn't heard from her in four days. He added that he received a text from an unknown number about her whereabouts.
The person who sent the text identified himself only by the nickname "Skeet." In the text, Skeet mentioned a drug deal that went south and that he demanded $300.  
The message said Skeet was "going to keep her captive and do physical harm to her unless [Johnson] paid the money he owed," according to a police report.
According to the police report, Johnson also received distressed voice mails from Martinez. Johnson, who is homeless and who lived with Martinez on the streets of Miami, then became extremely fearful because he did not have the money to save his girlfriend.
"Several locations were checked for the victim as well as several people who were supposed to have known the victim," the police report says. "None of these efforts produced any positive results."
Then, just as quickly as she disappeared, Martinez returned.
On Tuesday evening, she told Johnson that she'd been raped and could be found at the hospital. While in the emergency room, detectives questioned her, and found several holes in her story.  
Halfway through her shaky tale, Martinez confessed to making the whole thing up, Officer Christopher Bess said.
According to police, she was angry because her boyfriend had cheated on her, so she went to her friend's house, slept with him, and made up the abduction story. However, she knew her plan had spiraled out of control when she saw her face on the news, said the police report.
 "The defendant decided to contact [Johnson] in order to clear things up and not get the friend involved," the report said.
According to the FBI, false claims like these aren't kept track of statistically, but "these offenses occur throughout America every year," read a bulletin for officers.
"They waste substantial investigative resources — needed for legitimate cases involving real victims — before authorities can identify them as false allegations," the bulletin said.  "These false allegations can severely affect communities and the people who live and work there. Worse, they can make it harder for law enforcement agencies and citizens to take real victims of crime seriously."