Sunken Place Black Folks Who Defend Trump's Racism
Stacey Dash, Candace Owens, Ben Carson and more.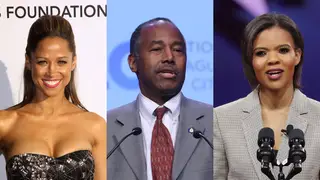 Ben Carson

Ben Carson's been a Trump supporters since dropping out of his own race for the White House. As secretary of Housing and Urban Development, a position the former doctor was clearly unqualified for, his direction continues to be devastating for many who live in public housing. See the clip above where Carson says there is no "Black or white" with Trump.

candace owens

The former CEO of an anti-Trump site is now a conservative and will say anything to get praise from the conservative write. She once said the NRA was a civil rights organization designed to protect African-Americans against the KKK. However, one of her most disturbing moments is defending Trump saying there were "good people" in a pack of Nazis, a comment even white conservatives disavowed.

Stacey Dash

Stacey Dash is another who defended Trump's "both sides" comments about Charlottesville. She is also the same person who said there should be no Black History Month.

Darrell Scott

Pastor Darrell Scott, who was an unknown before becoming a Trump supporter, will defend no matter the circumstance. While most Black Americans known he is a racist, see Scott defend all the vitrol coming from 45.

Paris Dennard

A former George Bush White House Director of Black Outreach, Dennard bows down to Trump. This heated exchange with author and former Clinton White House aide Keith Boykin shortly after the tragedy at Charlottesville shows the lengths Dennard will go to support his president.

Lynne Patton

Lynne Patton is Eric Trump's former party planner but managed to land a job at HUD under Ben Carson. She caused a stir when she stood behind Republican lawmakers when Michael Cohen called Trump a racist -- Patton knowing Trump was allegedly a reason why Trump could not be racist. She later defended her presence and called Trump's presidency "one of the most historic administrations in history."

Mia Love

Former Republican Representative Mia Love refused to not only label Donald Trump a racist for his Twitter attack on four congresswomen earlier this month, she defended his call for them to "go back and help fix the totally broken and crime infested places from which they came." All four women are United States citizens and three of them were born in the U.S.

diamond and silk

This duo have been Donald Trump supporters since he announced his run for presidency and they've made themselves quite a career out of being in-step with the president's every word and action. See them above say Trump isn't a racist, he's a "realist."