Tyrese Fires Back At His Ex-Wife After She Accused Him Of Beating Their Daughter
He actually claims to still love her.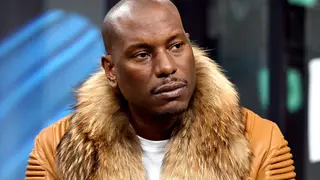 Tyrese Gibson is never one to keep quiet about issues, especially when they involve him.
Most recently the actor and musician was accused of physically abusing his daughter by his ex-wife, who subsequently sought a restraining order against him.
As expected, Tyrese went to Instagram to make a public statement and claims the reason Norma Mitchell Gibson is making the accusations is because she still hasn't found a man to replace Tyrese in her love life.
"I've only prayed that your heart heals and we live our lives separately and peacefully on behalf of our daughter," he captioned under a pic of him with his ex-wife and daughter. "There's someone out here for everybody - Norma I know you can see this, I'm sorry I got re-married, I'm sorry we didn't work out I'm sorry you haven't been able to find another man since we separated...... Sometimes you get married and have kids and things just don't work out, but I have NEVER wished harm on you."
Tyrese also cited court rulings that have given him more and more custody of his daughter over the years, which he believes disproves any possible stories of abuse.
"Paint your picture but God knows the truth...... if I was a bad dad I wouldn't of went from 80/20 to 70/30 to 60/40 to 50/50 custody in my favor," he continued. "All of the honorable fathers and parents out here keep fighting the good fight you may embarrassed at times but in the end the kids will always run into the arms of the ones who really has their backs in a great father not because I'm famous with money but because I am - that's my story and I'm sticking to it."
Norma Gibson recently filed court documents claiming that on August 19, the couple's 10-year-old daughter was staying with Tyrese when he allegedly "went into a rage, pushed our daughter to the ground, pinned her face down, put his knees on her back, grabbed her hands with one arm and beat her with the other."
The mother says the incident began when Tyrese accused the young girl of "stealing her own piggy bank money that she received for her birthday."
The request for protection was granted by a judge, which bars Tyrese from directly or indirectly contacting Norma or his daughter until an October 2 hearing.
See Tyrese's Instagram post about his daughter and ex-wife below.