Hip Hop Awards 2022: Who is Haviah Mighty? See the Canadian Rapper's Journey to Hip Hop Nominee
The up-and-coming female emcee earned her first nomination for 'Best International Flow'.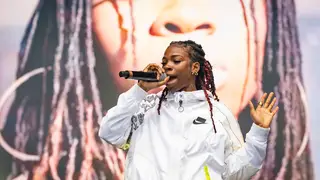 Born in Toronto, Haviah Mighty spent most of her life in Brampton, also known as Flower City, a city in the Greater Toronto Area that fostered fellow emcee Tory Lanez, singer-songwriter Alessia Cara, and fellow Hip Hop Awards nominee and legendary music video director,  Director X.
The burgeoning musician initially earned recognition as part of the all-female hip hop collective, The Sorority, before she sought off on a solo journey that has already seen critical success.  In 2019, she released her debut album, 13th Floor, which ultimately won Canada's prestigious Polaris Music Prize, marking the first time a Black woman and hip hop artist won the title.
Haviah Mighty has been releasing music for over a decade. Her contribution earned her critical acclaim and a nomination at the 2022 BET Hip Hop Awards hosted by rap icon Fat Joe. Ahead of this year's ceremony, learn more about the Canadian musician to her first-ever Hip Hop Awards node, and don't forget to tune into the 2022 BET Hip Hop Awards airing Tuesday, October 4, at 9 PM ET/PT on BET.
She's highly influenced by New York legend 50 Cent

In an interview with Rock the Bells, the "In Women Colour" rapper revealed that the "Get Rich or Die Tryin'" emcee "is one of the big inspirations for me starting to record my own music and learn to tell stories."

She added, "This would be like the Get Rich Or Die Trying era because I guess I was just old enough to expose myself to whatever I chose, and I guess I chose that. I was obviously very big into Eminem, you know, Dr. Dre, that whole era. So, to me, 50 Cent was a new age extension of that. It was a representation of how the new age comes out of the old school. It was a reminder that the old school does actually create what is next. It really is behind it."

She was once part of a hip-hop collective

Haviah initially garnered recognition in 2016 as part of the hip hop collection The Sorority before branching off for a solo career. The group initially comprised Keysha Freshh, Lex Leosis, pHoenix Pagliacci, and Haviah. They released their debut project in 2018, titled Pledge. Following Pagliacci's departure, the trio disbanded after their final show on November 24, 2019.

She's a seasoned entertainer

Haviah's love for music began at a young age. At four years old, she had already started singing. By 11, she was rapping her own songs and producing at 15.  She began releasing music independently in 2009 and has opened for some of the industry's most prominent artists, including Nelly, Sheck Wes, Kranium, and Grammy-nominated rapper Snoop Dogg.

She earned a co-sign from Sway Calloway

Following a fiery performance during Sway Calloway's "5 Fingers of Death" freestyle segment, the former emcee declared: "Let that be a testament. You don't have time to waste. Time is the only true currency. You can lose money and make it back… all that other stuff you can get. You cannot get time back. You come on a platform like this; you cannot waste time. Haviah Mighty came ready."

She was crowned the 2019 Polaris Music Prize winner

In 2019, the hip-hop star won Canada's prestigious Polaris Music Prize for her debut studio album, 13th Floor, beating out shortlisted records by Marie Davidson, Elisapie, FET.NAT, Dominique Fils-Aimé, Les Louanges, POP, Jessie Reyez, Shad, and Snotty Nose Rez Kids. The "Blame" musician was awarded a $50,000 cash prize along with the award. She became the first Black woman and hip hop artist to receive the prize.

The  Polaris Music Prize is a music award annually given to the best full-length Canadian album based on artistic merit, regardless of genre, sales, or record label. Notable winners include Haitian-Canadian recording producer Kayranada who earned the title in 2016 for his debut project 99.9%.

Watch the Hip Hop Awards on  Tuesday, October 4, at 9 PM ET/PT on BET