Cardi B's Reaction to Being Nominated for a BET Award Is Too Cute
The rapper is already feeling the love.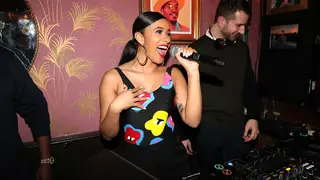 Earlier today (May 15) the nominees for the 2017 BET Awards were finally announced, with several artists finding their names on the list for the first time ever.

One of those aforementioned newcomers to the annual BET Awards is none other than Cardi B. After learning she is up for two awards — Best New Artist and Best Female Hip-Hop Artist — the Bronx, New York, native shared her initial reaction to the news in a way that is very much in line with her larger-than-life personality.
The best part? When the news broke, Cardi was fresh out of the shower, wearing nothing but a yellow towel and a bonnet, and immediately began frantically jumping up and down in excitement.
Cardi then, fully in the moment, began broadcasting on Instagram Live, where she became even more overwhelmed by all of the love pouring in following her nomination and began breaking down in happy tears.
After the heartfelt moment of gratitude, Cardi immediately snapped back to her normal self, posting on Instagram a screen grab showcasing that following the news, her fans helped get her trending on Twitter.
"B***h is trending," she hilariously captured her post on Instagram.
On Twitter, Cardi's humility immediately shone through even further, with the rapper taking this moment to put the spotlight on some other up-and-coming female rappers, shouting out some of whom have inspired her as of late.
Take a look at Cardi B finding out the exciting news she's up for two BET Awards this summer in the posts below.