DIRECT EFFECT Presented By Queen Collective
Writer and director Gina Prince-Bythewood and actress and director Regina King are being celebrated ahead of the 54th Annual NAACP Image Awards.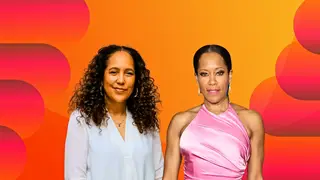 Historically, being Black in Hollywood in any capacity has been a challenge. And being a Black woman in the movie industry is even more challenging. Halle Berry is still the only Black actress to win the Academy Award for best actress.
However, though it has taken decades for Black women directors to get some recognition, they're finally receiving it from peers, consumers, and the industry. In fact, in 2016, award-winning director Ava DuVernay became the first African-American woman to head a live-action feature film with a budget of over $100 million. Still, there's still so much work to be done.
The NAACP Image Awards Direct Effect is about narrowing the gap between female directors of color and their counterparts, reminding the world that our stories are worthy of being told. A collaboration between BET and Procter & Gamble's Queen Collective initiative, DIRECT EFFECT, showcases the power of Black storytellers and creators ahead of the upcoming 54th Annual NAACP Image Awards.
For this collaboration, we highlight two Black women storytellers whose names precede them: Gina Prince-Bythewood and Regina King.
GINA PRINCE-BYTHEWOOD
If you've made it to the closing credits of beloved Black films or television from the last three decades, you've likely seen the name Gina Prince-Bythewood. That her name might not have the marquee recognition of the stars she directs is merely a product of the fact that she's more comfortable behind the camera than in front of it.
Telling stories of Black people, fictional and otherwise, without resorting to the negative tropes —slavery, poverty, Jim Crow segregation—that tend to permeate prestige Black Hollywood stories is a significant theme in Prince-Bythewood's work. Her lens is specifically focused on the stories of empowered Black women.
Prince-Bythewood started her career in 1992 writing episodes of "A Different World" and an episode of "South Central," starring Tina Lifford and Larenz Tate. She went on to direct episodes of "The Bernie Mac Show," "Girlfriends," and "Everybody Hates Chris." Prince-Bythewood wrote and directed her first film, the semi-autobiographical "Love & Basketball", in 2000. That film has since gained classic cult status and helped make actress Sanaa Lathan a household name.
After directing the Wesley Snipes-Lathan-led Terry McMillan novel adaptation "Disappearing Acts" in 2000, Prince-Bythewood wrote the screenplay and directed 2008's "The Secret Life of Bees" an adaptation of the novel of the same name starring Queen Latifah and Jennifer Hudson. She then moved on to "Beyond the Lights," starring Gugu Mbatha-Raw and Nate Parker and in 2020, Prince-Bythewood became the first Black woman to direct a major comic book-adapted film with 2020's Netflix film "The Old Guard."
Prince-Bythewood's writing and directorial spirit are a family affair. Her husbamd, Reggie Rock Bythewood, is also a writer and director of many beloved Black film and television shows. They created "Shots Fired," a miniseries that aired on Fox in 2017, which reunited her with Lathan. The couple has two sons and signed a first-look deal with Touchstone Television in 2020.
Most recently, Prince-Bythewood helmed the 2022 Viola Davis-led "The Woman King," a film that dramatizes the real-life Agojie, all-female army in 19th-century West Africa. The film received positive reviews and dozens of award accolades, namely in recognition of Prince-Bythewood's creative direction. However, the movie was snubbed by the Academy Awards this season, along with other Black woman-directed films ("Till" and "Saint-Omer").
She took the Academy to task for the snubs, acknowledging that it has yet to award an Oscar for Best Director to a Black filmmaker and has never nominated a Black woman for the accolade.
"I saw Everything Everywhere All at Once and Top Gun: Maverick because I heard they were really good," Prince-Bythewood recently told The Hollywood Reporter. "When you hear that, you go to the movie. Or you look at the trailer and say, 'I want to see that.
That looks good to me.' We, Black women, do not get that same grace. So, the question we need to ask is, 'Why is it so hard to relate to the work of your Black peers?' What is this inability of Academy voters to see Black women, and their humanity, and their heroism, as relatable to themselves?"
Prince-Bythewood is receiving the recognition and acknowledgment where it counts—from the Black community. She is nominated for two NAACP Image Awards this year, Outstanding Directing in a Motion Picture for "The Woman King" and Outstanding Directing in a Drama Series for Women of the Movement – "Mother and Son."
REGINA KING
There are Black actors, and then there are Black Hollywood mainstays. Regina King is neither…she is a Hollywood legend—Black, woman or otherwise. Since getting her start at age 14 in the mid-1980s in the role of Brenda Jenkins in 1985 in the sitcom "227," King has managed to defy Hollywood odds by having an enduring, multi-hyphenate career that still checks all the boxes nearly 40 years later.
Born and raised in Los Angeles, King studied at the University of Southern California before dropping out early to pursue acting. Her auspicious run in Black cinema started in the early 1990s with a bit part in John Singleton's Boyz n the Hood in 1991. That decade saw her on the silver screen frequently, in projects ranging from Black cult classics like Poetic Justice and Friday to awards darling "Jerry Maguire." She also appeared in guest roles on "New York Undercover" and "Living Single", among other television shows.
In the 2000s, King continued her prolific run as an actress starring in films including "Legally Blonde 2: Red, White & Blonde," and "Miss Congeniality 2: Armed and Fabulous." She won several awards for her role in 2004's Ray, portraying Ray Charles' wife Margie Hendrix. In 2005, King took on the voice role of the Freeman brothers in the animated series "The Boondocks," bringing a beloved Black comic strip to life without ever showing her face.
With all of that knowledge in front of the screen, King stepped behind the camera for the first time in 2013, directing an episode of the crime drama "Southland." She's helmed episodes of several beloved Black television shows, including "Being Mary Jane," "Greenleaf," and "Insecure," and "One Night in Miami…", a stage play adaptation, and King's first and only feature film to date, which opened in 2020 to mid-pandemic awards acclaim.
She's spent the last couple of decades as a red-carpet fixture on the awards circuit winning four Emmys—most recently for her starring role in the "Watchmen"—and became only the second Black woman to be nominated for a Golden Globe for Best Director for "One Night in Miami…", which was also the first film directed by an African American to presented in the Venice Film Festival's history. After nearly three and a half decades into her career, King finally won an Academy Award in 2019 for Best Supporting Actress for "If Beale Street Could Talk."
King has been nominated for several NAACP Image Awards this year and won in 2022 for Outstanding Supporting Actress for "If Beale Street Could Talk."
The Queen Collective is designed to celebrate Black creatives like Prince-Bythewood and King and help the women of color who are following in their footsteps. The Collective creates opportunities for multicultural women directors through distribution, mentorship, and production support. Now in its fifth year, the collaboration continues with support from Procter & Gamble, Queen Latifah and her Flavor Unit Entertainment, and Tribeca Studios.
Watch the 2023 NAACP Image Awards airing Saturday, Feb. 25, 2023, at 8:00 PM ET on BET.