Summer Walker To Perform Alongside Live Orchestra for 'One Night Only' Event
The r&b songstress recently released the latest installment of her Clear series, "Clear 2: Soft Life."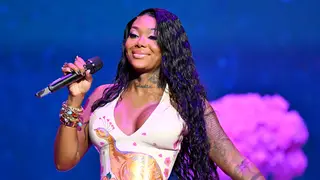 Summer Walker's latest project, Clear 2: Soft Life, is getting the string ensemble treatment. Earlier this week, the "Hardlife" singer took to her Instagram account, where she announced plans to perform songs from her Clear series accompanied by a live orchestra.
The performance, which the 27-year-old songstress described as a "one night only" event, will take place in her hometown of Atlanta at Cobb Energy Centre on June 1.
Fans were already delighted with Walker's recent effort, which featured an appearance by Childish Gambino and J. Cole, who opened the album with a track titled "To Summer, From Cole - Audio Hug."
Many supporters also praised the artist, including one Instagram user who commented, "This is honestly how you give back to your city when you make it big. We all love a special, intimate, one-night-only performance.
General tickets will be available on Friday (May 26).  Cocktail attire is encouraged.