Lil Baby Is Charging $400,000 Per Show
He revealed this figure on 'The Breakfast Club.'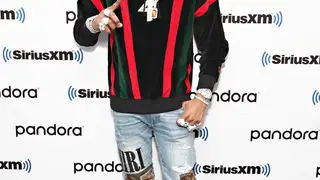 If you want to book Lil Baby to perform at an event, it's not going to come cheap. The rapper recently revealed just how much money he's charging per show. 
While speaking toThe Breakfast Club's Angela Yee, the rapper talked about the lack of shows he's been booking because of the pandemic and how that has impacted his finances. 
"I ain't really stressed too bad about it 'cause I save more money, you know what I'm saying?" he said. 
"Whatever I get for a show now is higher than I ever would've got before corona," he continued "I can't ponder on $400K, $500K a show 'cause I ain't never really got that anyway."
When Charlamagne Tha God asked him to clarify how much he gets, Lil Baby stared into the camera and reiterated that he's earning $400,000 per show. He also estimated that he does 100 shows a year, so putting that into perspective, that means that he's potentially lost out on $40 million because of the pandemic. 
If his recent tweets from November mean anything, it looks like he'll be making that money back, and then some, when he releases his next album — which he's currently working on. 
Back then, he told fans on Twitter that he wouldn't be doing any more features for the time being. "It was fun while it lasted," he wrote. "No more features from Lil Baby #albummode."
Check out Lil Baby's new Breakfast Club interview up above.