Cowboys Owner Denies Link Between Football and CTE
Jerry Jones can't be serious.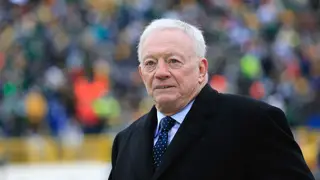 Just last week, the National Football League finally acknowledged the link between football and CTE (chronic traumatic encephalopathy), the devastating longterm brain disease. 
Now, if they could only convince one of their most prominent owners — Jerry Jones.
The brash Dallas Cowboys owner told the SportsBusiness Journal that "it's absurd to say there's a relationship between CTE and playing football."
But, Jerry... Jeff Miller, the NFL's senior vice president for health and safety, just said last week during a round-table discussion on concussions at the House of Representatives that there's a link between the game and CTE.
Dr. Ann McKee, a Boston University neuropathologist who diagnosed CTE in 90 of 94 former football players, only added to that conclusion.
"I unequivocally think there's a link between playing football and CTE," McKee said last week, as reported by ESPN. "We've seen it in 90 out of 94 NFL players whose brains we've examined, we've found it in 45 out of 55 college players and six out of 26 high school players. No, I don't think this represents how common this disease is in the living population, but the fact that over five years I've been able to accumulate this number of cases in football players, it cannot be rare. In fact, I think we are going to be surprised at how common it is."
That being said, you still don't believe there's a link between CTE and pro football, Mr. Jones?
[Kanye voice] How, Jerry?
Feeling the backlash of his statement, Jones attempted to clean up his thoughts with the Washington Post later, but might have made his denial even worse, still refuting the link between pro football and the damaging brain disease.
"There's no data that in any way creates a knowledge. There's no way that you could have made a comment that there is an association and some type of assertion," Jones said. "In most things, you have to back it up by studies. And in this particular case, we all know how medicine is. Medicine is evolving. I grew up being told that aspirin was not good. I'm told that one a day is good for you.… I'm saying that changed over the years as we've had more research and knowledge."
We understand old-school owners not wanting to change football to the point where it doesn't resemble the gridiron game America loves anymore, but to not at least acknowledge the connection between the sport and CTE — especially the 90 late NFL players who were posthumously diagnosed with the brain disease — is unacceptable and insulting. Especially when you're the owner of "America's Team."
BET Sports News — Get the latest news and information about African-Americans in sports, including weekly recaps, celebrity news and photos of your favorite Black athletes.
(Photo: Rob Carr/Getty Images)