Hip Hop Awards 2023: Quavo's Collaborative Magic: 7 Fiery Duets That Elevated Hip-Hop
The Atlanta emcee's versatility and rapid-fire flow make him a sought-after artist.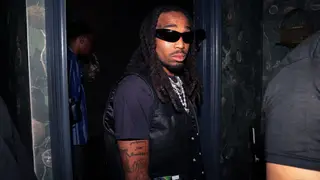 Quavo, one-third of the legendary rap trio Migos, is a skilled rapper, songwriter, and master collaborator. His versatile style and unique flow have made him a sought-after artist in the music industry. The Atlanta native's collaborations have consistently demonstrated his ability to adapt and excel in various musical contexts.
Ahead of the "BET Hip Hop Awards" 2023, where we're celebrating 50 years of hip hop, we're looking at some of the most significant contributors and the hits that made the genre where it is today. Quavo earned a nomination and the late Takeoff for "Best Duo or Group." Keep reading to check out seven of Quavo's collaborations that took hip-hop to new heights and showcased his versatility as an artist.
"Congratulations" with Post Malone

Quavo's melodic contributions added depth to Post Malone's hit single. The song achieved multi-platinum status and solidified both artists' positions in the industry.

"I'm the One" with DJ Khaled feat. Justin Bieber, Chance the Rapper, Lil Wayne, and Quavo

The emcee's smooth rap verse elevated this star-studded collaboration. The track became DJ Khaled's first no. 1 single and an instant summer anthem.

Murda Beatz - NO MÁS feat. Quavo, J Balvin, Anitta & Pharrell

Quavo brings his hip hop star quality to the Latin music world on Murda Beatz's 2022 record, "NO MÁS," featuring J Balvin, Anitta, and super producer Pharrell Williams. The video has been viewed over four million times on YouTube.

Pop Smoke - Shake The Room feat. Quavo

The rapper's signature rapid-fire flow and charismatic lyricism perfectly complemented Pop Smoke's gritty and powerful delivery, creating a memorable fusion of their talents.

"MotorSport" with Migos feat. Nicki Minaj and Cardi B

Along with his Migos bandmate, Quavo's collaboration with two leading female rappers created a significant buzz. The rapper directed the music video alongside directors Bradley & Pablo, and has been viewed on YouTube over 681 million times.

"No Brainer" with DJ Khaled feat. Justin Bieber, Chance the Rapper, and Quavo

"No Brainer" saw the return of frequent collaborators Quavo, Justin Bieber, Chance the Rapper, and DJ Khaled. Quavo's catchy verses made this another hit for DJ Khaled's star-studded ensemble.

"Turn Your Clic Up" - Quavo and Future

"Turn Your Clic Up" is his latest collaboration with Future. The track is the final single from Quavo's second solo studio album "Rocket Power."

Watch the Hip Hop Awards 2023 on Tuesday, October 10, 2023, at 9 PM ET/PT on BET.