OK, Legsssss!: Angela Simmons Bares Legs In Bootie-Shorts And $1200 Boots
Come thru' serving that all-natural bawdy!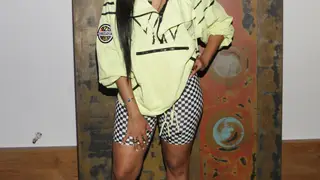 ICYMI Angela Simmons has been living her best life while on her recent girl's trip. She's been all over the 'gram posting photos from her fabulous vacation.
Ang and her girls have been spending time wine tasting in Napa Valley and enjoying R&R while in San Francisco. The 30-year-old mom and entrepreneur was seen having the time of her life, first, doing Ciara's level up challenge in a sexy swim suit. And most recently, posing on Instagram with the caption, "San Fran nights!" It looks like she and her girls were about to enjoy a night out on the town.
Angela was sporting black denim short-shorts with a matching denim jacket paired with Christian Louboutin logo booties ($1,195). Sis is serving all types of Black Girl Magic in this look.
If you want to slay in these boots, we found out where you can buy them.
OK, Ang. Keep stuntin' with that all-natural body! #millenialmomgoals